Some of my favourite alternate names for the month of October:
Spooktober
Octoberween
Gothtober
Here is a post looking back at all the books I read in the month of our great pumpkin king!
Chloe in India
by Kate Darnton 
🐯 🌺 🌏
I wrote a full review of this book that you can read HERE.
4 Books!
Aristotle and Dante Discover the Secrets of the Universe
by Benjamin Alire Sáenz 🐶 🌌  💕
Do you ever want to throw a book out of the window out of love because it was so beautiful and now you are dead inside and don't know how you can go on with your life after finishing it??? That's how I felt after finishing this.
Here are some choice quotes:
"I didn't care because what mattered is that Dante's voice felt real. And I felt real. Until Dante, being with other people was the hardest thing in the world for me. But Dante made talking and living and feeling seem like all those things were perfectly natural. Not in my world, they weren't… This afternoon I learned two new words. 'Inscrutable'. And 'friend'. Words were different when they lived inside you."
"'We need the beer! We need the fucking beer Dante!' I don't know why I was yelling. The yelling turned into sobs. I fell into Dante's arms and cried. He held me and didn't say a word. Another secret of the universe: Sometimes pain was like a storm that came out of nowhere. The clearest summer morning could end in a downpour. Could end in lightning and thunder." 
THIS BOOK COULD NOT BE ANYMORE BEAUTIFUL EVEN IF IT TRIED!!!!!
 5 Books!
The Cat Who Came Off From The Roof
by Annie M. G. Schmidt 
🐱 

🏠 🐟

My full review for this book is up and you can read it HERE.
4 Books!
Gutshot
by Amelia Gray 💀  📚 ✒️
I really really REALLY wanted to like this. But I just couldn't. I got to about halfway through before I realised I was not liking this book at all.
I tried so hard but it was just so unsettling… There was something about it that was making me feel ill and not in a good way.
I TRIED. I REALLY TRIED. I'M SORRY!!!!
 1 Book…
A Monster Calls
by Patrick Ness 💀  🌳 💨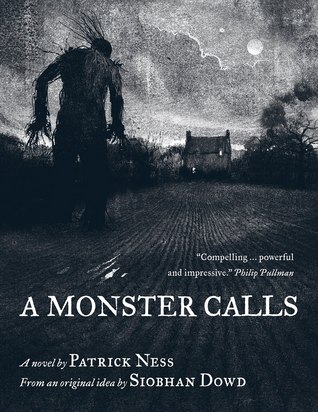 This was SO powerful I had to read it in one sitting. Which is not saying much because it's not very long. But it sure packs a punch. I know that is so cliche to say but it's true.
After I finished it I felt like my insides had been scrubbed with a steel sponge in a good way. I really need to read more books by Ness if this book is any indication to his talent.
Also this is really really REALLY sad so uh maybe don't read it if you recently have gone through something traumatic or a loss and don't want to be left raw and sad by the end…
4 Books!
Dealing with Dragons
by Patricia C. Wrede 🏰 🐉 👸
OH MY GOSH!!!! This book is so cute and light and fun!! I think I had a constant smile on my face while reading it too. I really love dragons and I also really love reading middle grade fantasy from the 80s and 90s because it reminds me of my childhood and this really was such a comforting read for that reason. It doesn't read too little like it's obviously for kids, but it reads like kids were in mind, but the text wasn't dumbed down for them.
4 Books!
Saint Mazie
by Jami Attenberg 🎫 📫 🚬
I had wanted to read this book since I heard about it just before it's publication date and it DID. NOT. DISAPPOINT. I'm a sucker for historical fiction, and especially if it's set in the turn of the century. And in New York. And if it includes Jewish immigrants. I'm very transparent what can I say.
Oh my god this book. It's told mostly through diary entries and interviews with people who knew her or who had relatives who knew her and even some people who are experts on things pertaining to our dear Mazie.
As soon as I finished reading it I missed Mazie. I missed Mazie and Sister Tee and the way she saw New York. She just seems like she was such a rare person, as saintly as any person trying to do good could be.  And then I found out that she was actually a REAL LIFE PERSON?!?!?? It's true!! That made me love this book even more than I already did.
Some choice quotes:
"If you can't see the beauty in the dirt then I feel sorry for you. And if you can't see why these streets are special, then just go home already."
"There ain't nothing wrong with being alone, which is what I am, or what I have been. It's when it turns to loneliness, when you get to feeling blue about it all, that you're in trouble. There's the problem, loneliness."
Safe to say I'm going to gobble up everything else Attenberg has written ASAP.
 5 Books!