Hermione is truly the resident SJW at Hogwarts. Stirring up shit for worthy causes, setting up underground clubs and arming herself with the right skills and knowledge to destroy her oppressors. Including learning how to throw a mean right hook.
First of all, BIG HUGS to the amazing people at Book Riot for inspiring me to make this list! I love making lists so when I saw their post that was literally just about making Literary Lists I knew I had to bring at least one of them to life.
I made myself only choose 10 books, even though I'm confident Mrs Granger-Weasley could manage a much bigger reading list. I'd like to think she's juggling a lot of other important duties.
Non-Fiction / Reference
💠 The Next American Revolution: Sustainable Activism for the Twenty-First Century
by Grace Lee Boggs

In this powerful, deeply humanistic book, Grace Lee Boggs, a legendary figure in the struggle for justice in America, shrewdly assesses the current crisis—political, economical, and environmental—and shows how to create the radical social change we need to confront new realities. A vibrant, inspirational force, Boggs has participated in all of the twentieth century's major social movements—for civil rights, women's rights, workers' rights, and more. She draws from seven decades of activist experience, and a rigorous commitment to critical thinking, to redefine "revolution" for our times. From her home in Detroit, she reveals how hope and creativity are overcoming despair and decay within the most devastated urban communities. Her book is a manifesto for creating alternative modes of work, politics, and human interaction that will collectively constitute the next American Revolution. [blurb + img src]
One thing that always stood out to me about Hermione was that she was not afraid to stir shit up for the right reasons. Sure she might have irritated classmates and upset years and years of tradition with her desire to improve the lives of House Elves, but she was 100% doing it for the right reasons. It's that kind of drive that I would like to think stayed with her while she pursued her career in Magical Law Enforcement. I'd also love to see what are the wizarding world equivalent of people like Grace Lee Boggs. Have they written books? YO HGW, HIT ME UP!!
💸 Amazon UK / USA 💸 Book Depository 💸
💠 The Witches: Salem, 1692
by Stacy Schiff
It began in 1692, over an exceptionally raw Massachusetts winter, when a minister's daughter began to scream and convulse. It ended less than a year later, but not before 19 men and women had been hanged and an elderly man crushed to death. The panic spread quickly, involving the most educated men and prominent politicians in the colony. Neighbors accused neighbors, parents and children each other. Aside from suffrage, the Salem Witch Trials represent the only moment when women played the central role in American history. In curious ways, the trials would shape the future republic. As psychologically thrilling as it is historically seminal, THE WITCHES is Stacy Schiff's account of this fantastical story-the first great American mystery unveiled fully for the first time by one of our most acclaimed historians. [blurb + img src]
I knew when I started searching for books for this list that I had to include at least one book about the history of Salem. After all, it is the history of English witches and wizards after their immigration to 'the new world'from a muggle point of view. Which is sure to cause some 'laugh to keep from crying' moments.
PS: I would totally have added some mystical books by muggles of colour, such as books on Indigenous or First Nations people of North America but I do not know of any good ones. So if anyone knows of any be sure to owl good ol' Hezza.
💸 Amazon UK / USA 💸 Book Depository 💸
💠 Feminism is for Everybody: Passionate Politics
by bell hooks
In this engaging and provocative volume, bell hooks introduces a popular theory of feminism rooted in common sense and the wisdom of experience. Hers is a vision of a beloved community that appeals to all those committed to equality, mutual respect, and justice. hooks applies her critical analysis to the most contentious and challenging issues facing feminists today, including reproductive rights, violence, race, class, and work… hooks speaks to all those in search of true liberation, asking readers to take look at feminism in a new light, to see that it touches all lives. Issuing an invitation to participate fully in feminist movement and to benefit fully from it, hooks shows that feminism—far from being an outdated concept or one limited to an intellectual elite–is indeed for everybody. [blurb + img src]
TO BE HONEST this should be required for every sentient creature. Muggle, Wizard, Centaur, Elf, WHATEVER. Everyone needs to read it. It does say, Feminism is for EVERYBODY not EVERYHUMAN. Just sayin'. The Centaurs could learn a thing or two from this book if you ask me. At least if my memory serves me correct..
💠 Feminism without Borders: Decolonizing Theory, Practicing Solidarity
by Chandra Talpade Mohanty
Mohanty has been at the vanguard of Third World and international feminist thought and activism for nearly two decades. This collection highlights the concerns running throughout her pioneering work: the politics of difference and solidarity, decolonizing and democratizing feminist practice, the crossing of borders, and the relation of feminist knowledge and scholarship to organizing and social movements. Mohanty offers here a sustained critique of globalization and urges a reorientation of transnational feminist practice toward anti-capitalist struggles. Feminism without Borders opens with Mohanty's influential critique of western feminism ("Under Western Eyes") and closes with a reconsideration of that piece based on her latest thinking regarding the ways that gender matters in the racial, class, and national formations of globalization. In between these essays, Mohanty meditates on the lives of women workers at different ends of the global assembly line (in India, the United Kingdom, and the United States); feminist writing on experience, identity, and community; dominant conceptions of multiculturalism and citizenship; and the corporatization of the North American academy. Mohanty's probing and provocative analyses of key concepts in feminist thought—"home," "sisterhood," "experience," "community"—lead the way toward a feminism without borders, a feminism fully engaged with the realities of a transnational world. [blurb + img src]
I haven't yet had the pleasure of reading this myself, but out of the research I did in finding appropriate muggle social-justice books, this one seemed to shine the strongest. Like I said above, I'd love to be able to read Wizarding social-justice books, especially feminism ones! I reckon they'd still be similar, but then again, it's a different world to our muggle one so who knows what else could be going on in their feminist discourse!!
💸 Amazon UK / USA 💸 Book Depository 💸
Fiction
💠 The Buddha of Suburbia
by Hanif Kureishi
Karim Amir lives with his English mother and Indian father in the routine comfort of suburban London, enduring his teenage years with good humor, always on the lookout for adventure and sexual possibilities. Life gets more interesting, however, when his father becomes the Buddha of Suburbia, beguiling a circle of would-be mystics. And when the Buddha falls in love with one of his disciples, the beautiful and brazen Eva, Karim is introduced to a world of renegade theater directors, punk rock stars, fancy parties, and all the sex a young man could desire. A love story for at least two generations, a high-spirited comedy of sexual manners and social turmoil, The Buddha of Suburbia is one of the most enchanting, provocative, and original books to appear in years. [blurb + img src]
I feel like this is a book that could get her laughing and also thinking about the muggle world and how it would cope with magic being part of their everyday lives. Or at least, real life mystics.
💸 Amazon UK / USA 💸 Book Depository 💸
💠 American Gods
by Neil Gaiman 
Days before his release from prison, Shadow's wife, Laura, dies in a mysterious car crash. Numbly, he makes his way back home. On the plane, he encounters the enigmatic Mr Wednesday, who claims to be a refugee from a distant war, a former god and the king of America. Together they embark on a profoundly strange journey across the heart of the USA, whilst all around them a storm of preternatural and epic proportions threatens to break. Scary, gripping and deeply unsettling, AMERICAN GODS takes a long, hard look into the soul of America. You'll be surprised by what and who it finds there… [blurb + img src]
So this book is massive and I'm talking thick as a brick massive. If Hermione can call a book twice this size "light reading", then I see no reason why this book should intimidate her. It also helps that this is quite an interesting tale of supernatural happenings in the United States. I'm pretty sure Hermione gets enough supernatural oddities and strange happenings while working for the Magical Law Enforcement.
"No you cannot summon and command an ancient god to obey your wishes even if they no longer have any followers to make them powerful.."
💸 Amazon UK / USA 💸 Book Depository 💸
💠 The Rest of Us Just Live Here
by Patrick Ness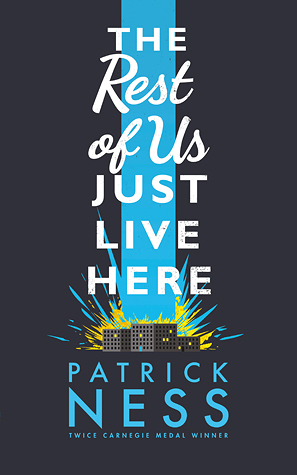 What if you aren't the Chosen One? The one who's supposed to fight the zombies, or the soul-eating ghosts, or whatever the heck this new thing is, with the blue lights and the death? What if you're like Mikey? Who just wants to graduate and go to prom and maybe finally work up the courage to ask Henna out before someone goes and blows up the high school. Again. Because sometimes there are problems bigger than this week's end of the world, and sometimes you just have to find the extraordinary in your ordinary life. Even if your best friend is worshipped by mountain lions. Award-winning writer Patrick Ness's bold and irreverent novel powerfully reminds us that there are many different types of remarkable. [blurb + img src]
Do I even NEED to explain this one???? I mean the back of the book starts off by saying, "What if you aren't the chosen one?" UH YOU MEAN, basically everyone who was friends with Potter??!!?! What if you just wanted to graduate without having to endure any PTSD? I feel like this book should be given to everyone who attended Hogwarts in the 90s.
💸 Amazon UK / USA 💸 Book Depository 💸
💠 Zoo City
by Lauren Beukes 
Zinzi has a Sloth on her back, a dirty 419 scam habit and a talent for finding lost things. But when a little old lady turns up dead and the cops confiscate her last paycheck, she's forced to take on her least favourite kind of job – missing persons. Being hired by reclusive music producer Odi Huron to find a teenybop pop star should be her ticket out of Zoo City, the festering slum where the criminal underclass and their animal companions live in the shadow of hell's undertow. Instead, it catapults Zinzi deeper into the maw of a city twisted by crime and magic, where she'll be forced to confront the dark secrets of former lives – including her own. [blurb + img src]
This book is sort of like a darker more realistic type of The Golden Compass from the His Dark Materials series. It also does a very good job at describing a bit of what life is like in Johanesburg in South Africa, even if it an alternative supernatural one. Again another kind of book I'd recommend to Hermione for the reason that it could give some perspective of how magic is used in other countries, especially in our present day with muggle technology!
💠 The Ghost Bride
by Yangsze Choo 
Though ruled by British overlords, the Chinese of colonial Malaya still cling to ancient customs. And in the sleepy port town of Malacca, ghosts and superstitions abound. Li Lan, the daughter of a genteel but bankrupt family, has few prospects. But fate intervenes when she receives an unusual proposal from the wealthy and powerful Lim family. They want her to become a ghost bride for the family's only son, who recently died under mysterious circumstances. Rarely practiced, a traditional ghost marriage is used to placate a restless spirit. Such a union would guarantee Li Lan a home for the rest of her days, but at a terrible price. After an ominous visit to the opulent Lim mansion, Li Lan finds herself haunted not only by her ghostly would-be suitor, but also by her desire for the Lim's handsome new heir, Tian Bai. Night after night, she is drawn into the shadowy parallel world of the Chinese afterlife, with its ghost cities, paper funeral offerings, vengeful spirits and monstrous bureaucracy—including the mysterious Er Lang, a charming but unpredictable guardian spirit. Li Lan must uncover the Lim family's darkest secrets—and the truth about her own family—before she is trapped in this ghostly world forever. [blurb + img src]
I'm not even going to lie and say I'm not biased for choosing this book. I'm born and bred in Singapore, and Malaysia is literally less than 5 hours away by car. There is no way I'd make this list without including at least ONE book set in South East Asia that has to do with magical happenings. Also, this is a great example of an actual real life custom that still sometimes happens in Chinese communities in Asia and could prove to be an interesting legal case for Hermione to think about. Seeing as she is a Magical Lawyer and what not.
(A hugely under explored area in terms of speculative fiction, Harry Potter-esque Fantasy, SciFi and Steampunk in general, in my opinion. Asia that is.)
💸 Amazon UK / USA 💸 Book Depository 💸
💠 The Princess Bride
by William Goldman
What happens when the most beautiful girl in the world marries the handsomest prince of all time and he turns out to be…well…a lot less than the man of her dreams? As a boy, William Goldman claims, he loved to hear his father read the S. Morgenstern classic, The Princess Bride. But as a grown-up he discovered that the boring parts were left out of good old Dad's recitation, and only the "good parts" reached his ears. Now Goldman does Dad one better. He's reconstructed the "Good Parts Version" to delight wise kids and wide-eyed grownups everywhere. What's it about? Fencing. Fighting. True Love. Strong Hate. Harsh Revenge. A Few Giants. Lots of Bad Men. Lots of Good Men. Five or Six Beautiful Women. Beasties Monstrous and Gentle. Some Swell Escapes and Captures. Death, Lies, Truth, Miracles, and a Little Sex. In short, it's about everything. [img + blurb src]
I just want every living soul to read this book. It's just so charming and hilarious and lovely. I could go on and list every adjective possible, but just take my word for it and read it. I just know Hermione would enjoy this book. Hell, she'd probably even make Ron read it. I know I would if I ever met him.
💸 Amazon UK / USA 💸 Book Depository 💸
And hey! If you enjoyed this post, please subscribe to my blog via email or WordPress! Or just follow me on Twitter @Happentobeshort. Whatever floats your boat dude. 😎✌