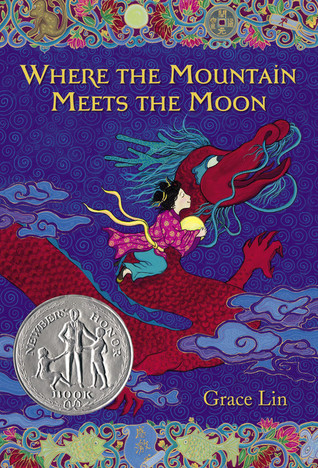 In the Valley of Fruitless Mountain, a young girl named Minli spends her days working hard in the fields and her nights listening to her father spin fantastic tales about the Jade Dragon and the Old Man of the Moon. Minli's mother, tired of their poor life, chides him for filling her head with nonsense. But Minli believes these enchanting stories and embarks on an extraordinary journey to find the Old Man of the Moon and ask him how her family can change their fortune. She encounters an assorted cast of characters and magical creatures along the way, including a dragon who accompanies her on her quest.
[blurb + img src]
The first thing that struck me about this was the cover. Such a cute illustration!! I was pleased to learn that the book was peppered with these cute illustrations as well. Also that it was described as a Chinese retelling of The Wizard of Oz. HOW COOL IS THAT?!

[img src: unknown]
The writing was so magical and made me want to not stop reading even when I knew I should sleep! I can't imagine how difficult it would be to tell a kid that it was bedtime if I had to read this to them. YEESH.
It is so whimsical and feels like a fairy tale. Exactly the kind of book my mum would have read to me as a kid, with all the little stories within a story. I loved that kind of stuff as a kid. Or at least I love it now.

[img src: unknown]
THIS BOOK HAS A DRAGON BUDDY!! I love it when dragons become friends. 🐲💚
Buzzwords for this book: PURE. HEARTFELT. WARM. 😍💞😘
It is so genuine and whimsical!! I feel like i need to whisper if I talk while reading it or when I tell people to read it. It reads how a well loved blanket and pillow feel while you are a human burrito all snuggly and warm and safe and soft.

[img src: unknown]
I'd love to own a physical copy (as mine was read on my gen 3 kindle) of this. But only if it is like a gilded hardback type, with illustrations that are printed to allow you to feel the texture of them, like they're embossed. And I'd want the illustrations in full high definition colour. With nice thick pages that you can feel.

[img src: unknown]
I'm going to tell eveyone I know who enjoys reading middle grade books to read this. Also teachers and parents. This is just so cute!!!
And now I know the story behind the 2 rosy cheeked children that are used in Chinese New Year decorations. THANKS GRACE!!!!! MYSTERY SOLVED!!
I'm just so star struck by the whimsy and innocent, yet honest fantasy of this book!! And it has a good moral! Parents love that don't they? It's kind of a spoiler though, so I won' mention it, but it definitely is something adults could use a reminder of once in a while. Luckily my mother reminds me of it everyday even if when it is glaring at me in the face.
WHERE THE MOUNTAIN MEETS THE MOON:
 5 Books!
Buy it from:
Book Depository

Amazon UK / USA