YOU KNOW WHAT IS GREAT ABOUT DECEMBER?
HANUKKAH. THAT'S WHAT.
 
[img src: unknown]
I made a Hanukkah themed Book Tag if any of y'all are interested!! Make sure you send me a link of your completed tag, whether it's a text post or a video! I'd love to see it!
Also I'm in Singapore which means biblical thunderstorms and flash floods like 4/5 times a week. Which is really nice when you're hiding indoors so you don't get wet in what is warm rain that sometimes can feel like pee. "Winter" in the tropics of South East Asia is weird. We have snow themed  decorations everywhere, yet we are either sweating like mad or hoping the torrential rain won't delay the bus system.
[img src: unknown]
 SAINT MONKEY: A NOVEL
by Jacinda Townsend 🎹👪⏳
I wanted to enjoy this more than I actually did. Which is not to say I didn't like it. I think my main problem with it was the writing style as I think it got a bit dry at times. I am certainly the Read to Escape kind of person and find it hard to read books that don't allow me to do that, either through their plot or writing style. It got better after the first third or so, especially once the girls grew up. On finishing the book I'm able to appreciate it as a whole and I think my rating for it went from like a 2 (during reading) to a 3 (after reading).
 3 Books!
THE BOOK OF UNKNOWN AMERICANS
by Cristina Henriquez 👪❄️💓
This book was SO GOOD. I LOVED IT SO SO SO MUCH!! It was so touching and heartfelt and also very sad, but in a bittersweet way? And also props for it being about people of colour and centering around a latina with a disability!!!! SO IMPORTANT!!!
It reminded me a lot of Aristotle and Dante Discover the Secrets of the Universe in the writing style to be honest. It had such a visual flow to it. Unlike Aristotle and Dante, it wasn't told through just one perspective, but through like a series of 'interviews' by some other residents in the area and then also through the point of view of other characters in the story. But it still worked and had the same effect on me as Aristotle and Dante did.
Which is that when I finished it, I let out a piercing cry and threw my book out of the balcony and cried for 10 million years because it was so beautiful and bittersweet and I couldn't cope. (Not really though because I borrowed it from the library and I don't condone Physical Harm Against Books.)
My favourite bit that really pins down the Diaspora Feels of the whole book:
But I worry what it would be like after all this time… Sometimes I think I would rather just remember it in my head, all those streets and places I loved. The way it smelled of car exhaust and sweet fruit. The thickness of the heat. The sound of dogs barking in alley-ways. That's the Panama I want to hold on to. Because a place can do many things against you, and if it's your home or if it was your home at one time, you still love it. That's how it works. 
 5 Books!
AKATA WITCH
by Nnedi Okorafor 🌞✨🌍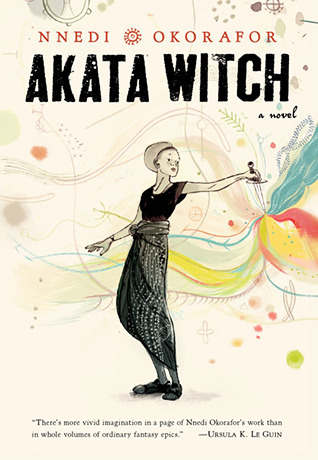 [breaks down your door] OK SO YOU KNOW HARRY POTTER RIGHT??? IT'S JUST IN THE UK AND THAT IS IT. WHAT ABOUT OTHER COUNTRIES IN THE WORLD???? DID YOU THINK ABOUT THAT??????? ME TOO!!!!! SO LISTEN:
As soon as I got like less than a third of the way through, I knew, I just knew that this book had to be part of the HP universe. If JK isn't going to tell us about other wizarding communities, then people are just going to have to come up with it themselves.
This book is BY NO MEANS affiliated with Harry Potter at all. In case that wasn't already clear. The only reason I bring it up is because it has everything Rowling's series had. A big bad, a band of plucky magical kids, exasperated adult mentors, a secret "Leopard" community within the "Lamb" community and of course, a very special individual that makes her stand out from the rest. In this case her name is Sunny and she has Albinism.
"And one of us is outside in." He gestured at Sunny. "Black on the inside but white on the outside." Sunny sucked her teeth but said nothing.
And best part last: It's set in Nigeria. Yes folks. This is an HP style story about an Albino girl from Nigeria who is also from the States and then again Nigeria and her three new friends who just happen to all have innate magical abilities.
My only disappointment was with how quick the story ended, it felt a bit rushed!! Everything else was so well thought out and the world was so beautifully built and then we have the big climax, which kinda fell a bit flat. I know there's another book coming out some time in 2016, but that's a good 5 years after this first one came out.. So it makes me think that maybe the book was meant to be longer but then cut short so it could be fleshed out into a sequel? I dunno but I've read 2 other books by Ms Okorafor and I've loved each one so there is NO WAY I am missing this sequel.
 4 Books!
FALLING IN LOVE WITH HOMINIDS
by Nalo Hopkinson 💪🏾😱✨
I've written a full review post on this book that you can read HERE.
 3 Books!
The Book of Speculation
by Erika Swyler 📑🎪👪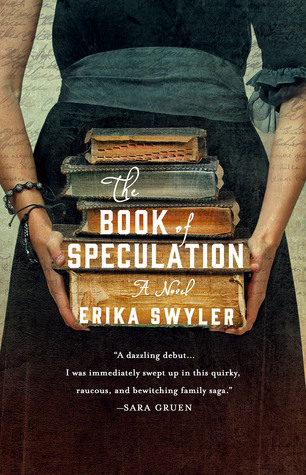 This is a fun read that could be addicting for some, (like myself) because of the magical realism elements and also the whole Magical Family Saga. It's basically a story for people who like books about books, mysterious family histories, carnivals and split narratives.
Simon is a good egg of a librarian, albeit a bit of a disaster. His family home is falling apart, he loses his job, somehow slipped into a relationship with a childhood friend and his extremely eccentric sister has whirled back into his life bringing a tentacle tattooed Electric Man. On top of all of this, he receives a strange old book that quite literally changes his life.
TL;DR – It's a fun read especially if those themes are things that interest you!!
 4 Books!