I think Diamond Books Distributors are my new best friends. LET ME READ ALL THE COMICS YOU HAVE PLEASE!!!!!!!

[img src: unknown]
MYTHIC: VOLUME 1
by Phil Hester 👺🔮✨
I LOVE THE CONCEPT FOR THIS OMG!!! It centers around the idea that MAGIC is what makes the world turn. And MYTHIC are a group of supernatural type folks who fix the magic when it goes wrong. Cassandra, as in the daughter of the King of Troy and a Greek Immortal, can see into the future, is a favourite for me. There's also an Apache shaman, who I thought was some random magic white dude, but apparently he is not. I'm not too pleased with that because he just looks too white and I think that's a missed opportunity… Anyway there is also an Indonesian dude who is just a cellphone salesman. Who ends up joining the crew.
ANYWAY it really is a lot of fun to read and the art is easy on the eyes too. If you're looking for some supernatural-myth type fun then you really should check this out. I will most DEFINITELY read the next volume when it comes out!!
 4 Books!
STAR TREK: STARFLEET ACADEMY
by by Mike Johnson & Ryan Parrott 🖖👽🚀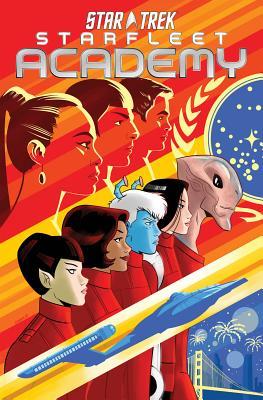 HELLO, MY NAME IS TAMARA AND I AM A SLUT FOR STAR TREK TIE IN NOVELS AND COMICS. I'm not joking here by the way. I call them "published fanfiction" and they are the best. Sometimes they're bad but most of the time they are enjoyable enough. And the best part is that with Star Trek, that they have been publishing these stories for DECADES. That also goes for the comics. You will never really run out of material to read.
ANYWAY! This comic doesn't really focus on the AOS crew, but rather on some new recruits. Well mostly on the recruits. And I am pretty sure it's set in between the first film and the terrible Into Darkness film. You get to see a bit of the crew while they were still students, which is always fun!! Like in this page where you see the upsetting and OUT OF CHARACTER I might add, characterization of Jim Kirk. Truly one of the biggest flaws of this reboot universe. 😭
I do love the little cameo of Morn though. ♥
But it's mostly about this rookie crew and the adventure they get into during a a sort of "triwizard tournament". IT'S FUN! READ IT IF YOU LOVE STAR TREK! And lastly, this is the main character in the rookie crew who is a very cute Vulcan, who follows the same kind of growth that Spock does:
 3 Books!
LIMBO: VOLUME 1
by Dan Watters 📼😈🕯
It's been some time since finishing this and I still don't exactly know how I feel about it. It's not bad!! I just got confused. But a good kind of confused. The kind that makes you want to know more and find out what exactly is happening. So ok, this detective right, he has no memory of his past or who he is and is good friends with a voodoo queen who uses mixtapes to talk to spirits. Like actual tapes. This comic is very #80sAesthetic. The blurb uses the phrase "neo-noir" to describe it and I think that is a fairly accurate description.
The comic even features Max Headroom!!! That's pretty damn 80s.
Limbo is a really cool concept and the art is lovely to boot, so it's really worth checking this out if any of the above tickles your fancy.
 4 Books!
I.D.
by Emma Rios 🙍🏥⚧
I love love LOVE it when comics/graphic novels get deep and shit. Yeah man. Deep and shit. ANYWAY, this here comic is set in an alternate future where you can sign up to get a BODY TRANSPLANT…. I KNOW! This story in particular revolves around three different people who see this as the only solution for their problems. One person wants to be present the gender they are on the inside, another wants to understand what it is to be human, while the third person is just bored with life.
The concept of this is really neat and the art is of course, lovely. I mean it's Emma Rios!! But despite all of this, the story didn't feel fleshed out enough. I just didn't really feel the 'human' part of the story all that much. It's about 70 pages, and I think it would have benefited from being a bit longer just to get readers to bond with this world and the main characters.
TLDR it's certainly an interesting and pretty read. And worth it if this kind of topic is of interest to you.
 3 Books!