So this is late and I know that. BUT I HAVE SOME VERY GOOD EXCUSES!!!
I was packing a lot and doing last minute things because my flight to the UK was first on the 31st of July and then moved to the 3rd of August.
I got sick almost as soon as I landed in London.
My phone got stolen on like my 6th day in the city while I was looking at flats.
Now it's the 2nd week of August and I went to the Nine Worlds convention.
4 EXCUSES IS GOOD ENOUGH!!!!!!!!

[img src: unknown]
TRISH TRASH #1: ROLLER GIRL OF MARS
[RELEASE: 15 NOV 2016]
by Jessica Abel 🌞🛴🌌
I actually requested this from Net Galley while in the waiting room the other day at my hospital before I was about to be admitted for a minor day surgery procedure. I saw SPACE, and ROLLER DERBY and that it was not a white girl on the cover and then I quickly pressed REQUEST as fast as my hands could press on my weenie phone screen.
Ok first: WHAT A RUDE ENDING!!!!!! I WANNA READ MORE RIGHT NOW!!!!!!! NOT IN NOVEMBER!!!!!!!!!!!!!!!!!!!!!!!!!
Second: I'M GONNA TELL EVERY ROLLER DERBY GIRL I KNOW TO READ THIS ASAP!!!!!!!!
Third: ALL 3 OF YOU WHO READ THIS BLOG NEED TO READ THIS ASAP TOO!!!!!!!!
 4 Books!
WELCOME TO NIGHTVALE
by Joseph Fink & Jeffrey Cranor 👁🏜📻
I've been a fan of the Night Vale podcast for some years now, so when I heard a while back that there was going to be an original story in print form coming out, I was super pumped. UNFORTUNATELY this just did not deliver. It wasn't bad, it just… wasn't the same. The novel was in the same vein as the 'radio play' and was very similar in plot too. I just think this is one of those things that doesn't really work well in any other form but the original. Also maybe hearing them perform it live like a play of sorts, which they already do. But apart from that, I think it should be left alone as an aural thing instead.
 3 Books!
UPROOTED
by Naomi Novik 🏰🌱✨
Naomi Novik is a GIFT. A writer who is very much, ONE OF US ONE OF US, and also one who writes just SO splendidly. I LOVE HER!!!!!!! It's just so magical and lush and cute, aw man it was so great. Honestly such an addicting read. Doesn't help that Novik writes so incredibly well that you can't help but get so sucked into the story!! I didn't even mind the romantic sub plot! Although to be fair, it didn't end like I thought it would and I'm glad for that. Basically, you will enjoy this book if you enjoy reading fantasy, and especially if you love like "old world" fantasy or folk tales.
PS: I couldn't help but laugh every time the spell "alamak" was uttered – it's a Singlish phrase used in place for OH MY GOD but it can also mean SH*T! I kept cracking up whenever I read it….
 5 Books!
BATMAN: THE BLACK MIRROR
by Scott Snyder 🦇💢☠
This I think is safe to say, a Batman classic. One that I shamefully have owned for YEARS but had not gotten around to reading… UNTIL NOW!! It was creepy but fun and importantly heavy on the bat-angst… heheheh…
 4 Books!
BATMAN: DEATH BY DESIGN
by Chip Kidd ☠🏗🦇
The art in this is SO GORGEOUS. I also really enjoyed the rhythm of the story. It's hard to explain, but it almost has this really nice beat to it, a steady rhythm that keeps you reading until it's over.
 4 Books!
CHAINMAIL BIKINI
edited by Hazel Newlevant 🚺🎮🕹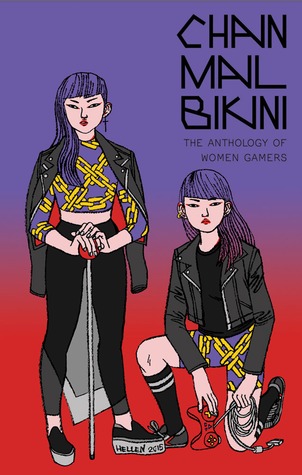 I helped to fund this via Kickstarter so I got this in advance. But I also never got around to reading it because I am a poo. There are SO MANY stories/comics in here!! Some are really touching and others are funny and some are just cute memories from childhood. It's such a lovely collection of stories that even a non gamer like myself, was able to find SOMETHING to connect with. I think it would have even more significance with female gamers though. I left my copy in Singapore but I think when I visit in December, I'll get one of my gaming girl-friends to read it.
BONUS: Here is a picture of my sister and I that I posted on twitter from the day I received my copy in the mail heheh:
MY COPY OF CHAIN-MAIL BIKINI ARRIVED!!!😁🎁 http://t.co/IbnZJzPB4c ft. My sister @teacrew and her mango pit 🍊 pic.twitter.com/IbSGoh7Hzz

— tamara c. (@happentobeshort) August 26, 2015
 5 Books!