Tonight I watched the second episode of the latest season of the Great British Bake Off. Which I'm sure everyone knows is the most stressful and adrenaline pumping baking show in the history of the world.
So in honour of this new season, I thought I'd compile a list of books – and a few comics! – that will surely curb your cravings for GBBO in-between episodes.
🍴 CHARLIE AND THE CHOCOLATE FACTORY
I have to start with what in my opinion, is the most obvious book for this list. If I didn't include this classic I might as well never eat a cookie again and resign myself to a bland diet from here on out.
This one is not as obvious as the previous, but I still think warrants a mention!! A detective called Tony Chu is Cibopathic. Which means he gets psychic impressions from whatever he eats. He's also an amazing detective and doesn't mind the title as long as he doesn't have to nibble on a corpse.. As a result he's been recruited to a special division of the FDA to solve some of their more bizarre cases. This series is just so different you really need to check it out. Also doesn't hurt that it's hilarious too.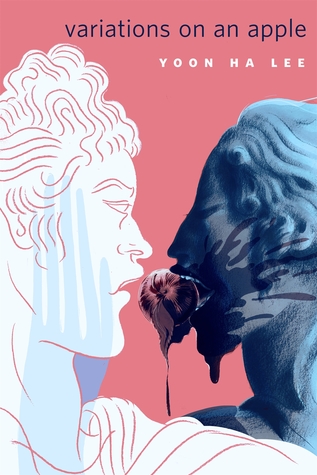 And now for something completely different!!! This here is a short story/novella published originally for free reading on Tor.com and purchase on Amazon, by Yoon Ha Lee. WHO BY THE WAY, writes so beautifully so… yeah. So there. ANYWAY, this is a retelling of sorts of the Greek myth where the prince of Troy, Paris, is given an apple by Hera, Aphrodite and Athena, and told to give it to the fairest of them all~.
Ok so hear me out, I know the link to GBBO for this one is loose and vague at best, bUT JUST IMAGINE. Just imagine if the contestants were told to create something specific with this myth in mind for the 'showstopper' round. JUST IMAGINE!!!! I'm not creative with food so honestly the first thing that came to mind was an elegant apple pie with gold dust. But you get what I'm trying to say here right…???
🍴 CHOCOLAT
This list would likely be a-miss without this other well known story. A story of a small french town turned on it's head after the arrival of a confectioner and her young daughter. Magical realism can be so much fun when food is involved and putting together this list has made me realise there is a MASSIVE lack of speculative fiction out there that centers around food, let alone baking or confectionery!!
And last but not least, Charlie Holmberg's June release, Magic Bitter, Magic Sweet DEFINITELY needs to be on this list. You can read my full review for it HERE! But what you need to know about this book in relation to GBBO is that Maire is a baker that is able to imbue her creations with emotions and abilities that are passed onto those who eat them. She has no idea where this ability came from or even where she came from. It's a really fun read to date, a concept I've only ever seen as a mention or minor part of stories before.

[img src: unknown]
LONG STORY SHORT putting together this list has made me realise that the amount of fiction stories that center around cooking, let alone baking or making sweets, is very very small!! Which actually sucks because I'd love to read more stories that mix speculative fiction or fantasy or ANYTHING with food and eating.
So, if you're reading this and you are not my mother – who is probably the only person who reads this, hi mum – and know of some books that fit the bill, let me know!!!