Oh August. What a weird month you've been.
I landed in the UK on the 3rd and then got sick like a day later from ye olde Travellers Flu/Cold. Which then lasted something around 2 weeks. But I powered through that and even went to the Nine Worlds convention, in which I also was part of a Star Trek roundtable!!!
And when I FINALLY RECOVERED, I spent the weekend up in Edinburgh visiting some friends! Which was of course super gr8, but as soon as I got back to England I got sick. AGAIN. And that has taken me about a week to recover from. Which of course was SUPER.
Did I mention I also got my phone stolen OUT OF MY HAND within the first week of being back in the UK? Thanks August. That was… Interesting.

[img src: unknown]
DISNEY MANGA: STITCH! VOLUME 1
Release Date: 30th August 2016
by Yumi Tsukirino 👽🏖👧🏻
This was so cute!! I knew I had to read it because as a kid I LOVED the Pokemon manga by Tsukirino, 'Magical Pokemon Journey'. My sister and I were also super into the Lilo & Stitch movie and TV show as well. Safe to say this manga was just as adorable as I thought it would be! I think I would have really enjoyed it as a kid. Although it's not really something I'd pick up as an adult if I didn't already have that nostalgic tie to Tsukirino or Lilo & Stitch.
📘 📘 📘 3 Books!
RE*PRO*DUCT: VOLUME 1
by Austin Wilson 🤖🎶👧comic
I love robots. I especially love reading about them when they get FEELINGSSSS. Because it makes me have feelings too. I just want robots and androids and cyborgs to be HAPPY!!!! Anyway, this was an interesting look into that concept, of robots having the right to live as real beings. It was funny and at times heartfelt, and mostly I just really liked the world that they lived in. I'd like to see it explored a bit more!! Certainly worth a read if you enjoy this kind of thing, robots assimilating into human life or trying to anyway.
📘 📘 📘 3 Books!
THE BATTLE OF THE LABYRINTH
[PERCY JACKSON & THE OLYMPIANS #4]
by Rick Riordan 🗺🐕⚔
OK As of writing this it's been a while since I read this. BUT I do remember it being a bit more enjoyable than the last!! I just KNEW who that MYSTERIOUS~ man at camp was… I JUST KNEW IT. But it didn't stop me from enjoying the reveal any less. I also loved the progression of Nico!!
📘 📘 📘 3 Books!
THE LAST OLYMPIAN
[PERCY JACKSON & THE OLYMPIANS #5]
by Rick Riordan 🔥🏛🗡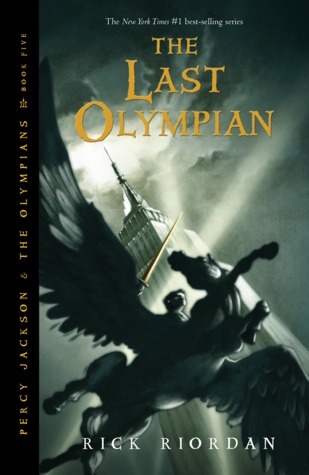 What a fun ending. WHAT A FUN SERIES. As I explained to my sister, it is so addicting to read and so much fun too!! AND IMPORTANTLY it's obviously for kids, but it doesn't talk down to them. So you can read it easily as an 'adult' without it getting tiring or boring. Obviously at times the dialogue or plot might get a bit trying, since you know, it's a middle grade series, but it's nothing too painful. But aw man, what a fun fun fun FUN series!!! I will say though, I felt that the way that final battle ended felt a bit abrupt.. It just felt like it was cleaned up or won really easily…?? Ah well. Again, I'm not too pressed about it because it is a middle grade series anyway and I can cope with those little things considering how enjoyable the story and series is over all!!! DEF read this series if you have a passing or casual interest in ancient greek myths or any ancient civilisation to be honest. Also if you are looking for a good fun read to take a break from your "regularly scheduled programming". 😜
📘 📘 📘 3 Books!
STAR TREK: THE PRICE OF THE PHOENIX
by Sondra Marshak & Myrna Culbreath 🖖☠👽
Right so I've known for YEARS that this is #ICONIC in Star Trek fandom as being a totally unsubtle homoerotic subtext Trek novel. So going into this I knew that but I was not prepared for just how unsubtle it was. SO GREAT. JUST. SO GREAT. I've read several stories in which Kirk is POSSIBLY DEAD!!! So obviously this plot device was nothing new to me but, wOW. What fun this was. WOWIE WOW. If you love your triumvirate fEELs then you gotta read this. I DON'T WANNA SPOIL IT even if it is like, 40 years too late, but you know. I'm nice like that. ALSO ALSO ALSO: Important to note that Sondra Marshak, who was one half of the writers of this book – was an early Star Trek fan. So you know, ONE OF US ONE OF US ONE OF US.
📘 📘 📘 3 Books!
NIGHTWOOD
by Djuna Barnes 👭🏻💔💌
I feel bad that I didn't like this book as much as I thought I would.. Am I too stupid too appreciate it?? I'm not sure. I can respect it and understand that it is a look into a few fictionalised queer lives of another era that could not have been too far from the truth either. But, I dunno… It was short enough though, so I would certainly recommend it to anyone who wants to have a swing at some classic queer fiction. THAT BEING SAID I did enjoy Barnes' writing enough that it kept me sucked in on the 4/5 hour train ride to Edinburgh that I read it on!!
📘 📘 2 Books!
GUILLERMO DEL TORO: AT HOME WITH MONSTERS: INSIDE HIS FILMS, NOTEBOOKS & COLLECTIONS
by Guillermo del Toro 👹👻😈
I JUST. I LOVE GUILLERMO DEL TORO A LOT!!!!!!!! Any del Toro fan NEEDS to read this. It doesn't matter on what level of a fan you are, a casual fan or a new fan or a super fan, you need to read this. A bunch of interviews and essays compiled in conjunction with his current travelling 'Bleak House' exhibition of his personal collection-cum-home, there's probably something in here you haven't read yet. And aw man, there is just so much S O M U CH in here that just, I guess, resonated with me, both as a fan of his work and the genre, and also just as a human being???? I dunno. Maybe I'm getting too deep. I just get very passionate about things sometimes. I wanna buy this book so I can read it when I'm feeling sad about myself and life. Guillermo del Toro is such a great person.
📘 📘 📘 📘 📘 5 Books!
MONSTRESS VOLUME 1
by Marjorie M. Liu 😡🔪🐺
I was hoping I'd really love this, but only ended up liking it… Doesn't mean it was bad! I just felt it was more pretty than actually a good read. The art was beautiful, SO beautiful. I loved that part! But the story, was just a bit too confusing…? It felt like too much was going on and I didn't quite understand what was really going on until about issue 4? To be honest I'm still not entirely sure what happened in this first volume… I will say this, I do appreciate that this is Liu's way of processing what happened to her grandparents and family in China during the second world war, and her feelings as a Chinese-American. I just don't think it worked too well as she might have hoped it did. Maybe it would have helped to have more world building to help establish the groundwork so it'd be less confusing…? Long story short, I loved the art and enjoyed the story but got really confused. ☹
📘 📘 📘 3 Books!
I also managed to get myself to read the first 2 volumes of the Return to the Labyrinth manga. Yes. As in the manga that was made as a sequel for the Jim Henson + Brian Froud film, The Labyrinth. THAT SAME ONE. Go read it if you also hate yourself as much as I hate myself.. READ HERE.

[img src: unknown]