My reading for September has been SHOCKING… Just 3 books… I'm so ashamed of myself… I've been so busy but, still…

[img src: unknown]
LIGHT
by Rob Cham 'Buno' 💎✨🐉
I loved this!!! Such beautiful and whimsical art that speaks for itself, which is important seeing as there are no words in this one!! Jokes aside, it really is such a gorgeous work of sequential art. I know it's a graphic novel, but the art is just so so so lovely I bet it is even better interacting with it physically on paper. The plot is simple, but a very cute adventure story of a little lizardy guy gallivanting around collecting crystals. I won't say more than that, but it gave me 'Bone' by Jeff Smith meets Adventure Time vibes. But like the non-plot episodes where it revolves around some random other character that goes off and does their own thing. I love those little 'filler' episodes. Anyway, def worth reading this if you enjoy good quality illustrations and cute stories in general.
📘 📘 📘 📘 📘 5 Books!
THE WOLF IN THE ATTIC
by Paul Kearney 🐺👧🏻🌝
I was pulled into reading this book because it mentioned that the little girl in the story befriended characters that were obviously based on CS Lewis and JRR Tolkien. While they are in the novel, they're not by any means major characters. This book is SO much better than what I anticipated. Kearney really got the voice of a young kid just on the cusp of adulthood, and it really made this book so pleasant to read because of it. The blurb pretty much says all you really need to know going into it, so I don't really wanna say anymore, but it is very "magical realism", but also not, because you're not sure if what is happening really is happening, or if it's a case of how a child copes with their reality. That's my take on it anyway. Long story short, it's very easy and very lovely to read and you should read it so there.
📘📘📘📘 4 Books!
THE LOST HERO
[THE HEROES OF OLYMPUS #1]
by Rick Riordian 🐲🔥🗡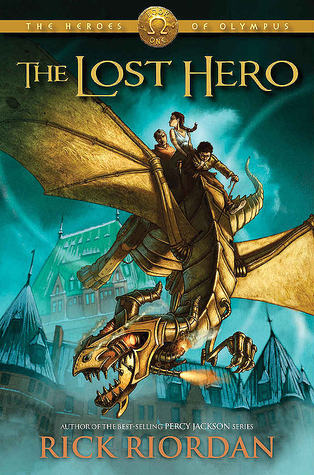 I was wondering how much of a Percy Jackson 'reboot' this would be and was pleasantly surprised that it wasn't! Ok, there are a LOT of parallels which are amusing, but not in a Carbon Copy kind of way. And like the original Jackson series, this is obviously for Middle Grade readers, but it still is a lot of fun to read. It never once feels like Riordan is writing DOWN to kids. Which was something I really enjoyed from his first series. ALSO: there is such a cliffhanger at the ending that I was SO GLAD that my copy had a preview with the first chapter to the next novel… I need to read it ASAP….
📘📘📘 3 Books!
ATLAS OBSCURA: AN EXPLORER'S GUIDE TO THE WORLD'S HIDDEN WONDERS
by Joshua Foer 🗺🚩😁
So this book is actually PERFECT for anyone who loves travelling along the beaten path, discovering the not-so touristy attractions while on holiday or the kind of person that religiously checks travel sites for the latest deals. Also that person who never really grew out of the Guinness world records books. I've loved the Atlas Obscura website for a while now and I was super pumped to get to have a look at the book before it came out! However I only got around to looking at it after it came out because I was so busy with life. And other things. Sucks. 😢 Some highlights for me from the book:
You can find Galileo's middle finger flipping the world off forever in Florence
There's a museum of Erotica in Naples
A very specific Frog and Gun museum can be found in Switzerland
Croatia has a museum of broken relationships?!?
I need to go back to Iceland because not only was the penis museum mentioned but apparently they have an Elf school
Apparently the central mid level escalators in Hong Kong are the longest outdoor covered escalator system in the WORLD
Tokyo has a shrine to slain insects
Found it amusing that the infinity pool and the Jalan Besar/Sungei Road 'thieves' market in Singapore was mentioned
BUT the all important Haw Par Villa was mentioned on the next page along with other Buddhist hells you can visit
Amazingly enough Bangkok has a museum of counterfeit goods
And lastly but not least important, there's a floating school in Lagos in Nigeria
📘📘📘📘📘 5 Books!