Gotta say, I'm starting off 2017 quite strong reading wise. YAY ME!!!!

[img src: unknown]
OUR CATS ARE MORE FAMOUS THAN US
by Ananth Hirsh & Yuko Ota 🐱💏📝
I didn't really know what to expect going into this, I mean, I only requested to review it from NetGalley because it looked amusing and easy to read…!! I had no idea that this had been a Kickstarter project by Hirsh and Ota of their webcomic. That being said, I really didn't need to know anything going into it. The way they write and draw, and just really the humour of it all really appealed to me all the same. I feel like it'd be perfect for someone in the 20s to read, it has enough of that I RELATE TO THIS kind of humour that will make you laugh but also make you go, AHAHAHA… Ohhh…. 
📘📘📘📘 4 Books!
IT'S ALL ABSOLUTELY FINE
by Ruby Elliot 🎭💊🛌
I can't believe it's 2017 and people STILL doubt the debilitating effect that poor or bad mental health can have on a person. I was officially diagnosed in 2014 and though I'm doing much better, I still have to remember to take care of myself and take a step back and realise when something is Not Me and the Bad Brains instead. But it's slow process and I'm still learning. I honestly wish I had this book back then because this is pretty much the "self help" book I needed when I entered THE VOID for the first time.
[img src: it's all absolutely fine]
There's just so much in this book that was just SO relatable to me on a level that I had never really experienced before. I mean, I've talked to friends about it before, friends who are going through similar things and have read of other peoples experiences, but this was something else. Something just clicked with me.
[img src: it's all absolutely fine]
This one in particular had me cracking up with laughter, in a kind of LAUGH TO KEEP FROM CRYING kind of way because wowie wow I have experienced them ALL. Even the last one. Because that is happening to me right now. My psych is pregnant and goes on maternity leave end of March. NICE. 😪👍🏻

[img src: it's all absolutely fine]
I'll end with this screenshot though, because this was such an important page for me:

[img src: it's all absolutely fine]
📘📘📘📘📘 5 Books!
REUNION
[WATER #2]
by Kara Dalkey 🌊🏰🐚
Right so I read the first book in this series some years ago and even though it's probably something I would have ADORED as an 11 year old, I still kinda enjoyed the writing as an adult??? It was just a really fun and quick read that was written in such a lush way. Unfortunately this second installment wasn't as lush as the first and it was even more trope-y and obviously directed at pre-teens… It was still fun though! I'm curious to see what will happen in the third and final book since that is when they return to the sea…
📘📘📘 3 Books!
GEMINA
[THE ILLUMINAE FILES #2]
by Amie Kaufman, Jay Kristoff 🛰️🌌♊
The first installment in this series was SO unique! Which feels like such a corny word to use, but I mean it 100%!!! It was told through a series of documents, like diary entries and transcriptions and even instant messages! This one is very similar and while the characters are different, it still ties into the first one, but only towards the end when the ship in the first book comes closer to this space station. This was honestly just as fun as the first, and I read this one all in one night…! I stayed up far too late but I think it was worth it. It was too hard to put down… I'm so curious to see how it all ends.
📘📘📘📘 4 Books!
ANGEL CATBIRD VOL 1
by Margaret Atwood 🐈🐦🐀
Ugh ok so I really wanted to like this. I really really did. But honestly this just fell so flat for me. I get that it's supposed to be like an 'homage' to like golden age comics, pre-DC and Marvel or whatever, but it was just too corny for me. I love early scifi don't get me wrong, nothing bad about some good o'l pulpy fiction, but ugh I don't know. I guess I just can't tolerate furries as much as I thought I could…
📘 1 Book!
PANTHEON
by Hamish Steele ⌛🗡️👪
FINALLY got around to reading this little gem!! I'm not sure how accurate the comic is to the 'actual' creation stories of Ancient Egypt, but I don't doubt that it is as close as possible. Please note this book is NOT FOR KIDS at all. AT ALL!!!! That being said, the crude jokes are just silly enough to make me laugh instead of being irritated or grossed out. Doesn't hurt that Hamish Steele has such a lovely way of drawing.
📘📘📘📘 4 Books!
MARCH VOL 1
by  John Lewis & Andrew Aydin ✊🏽✊🏾✊🏿
I think this is one of those graphic novels that should be introduced into High School classrooms, or even Middle School, much like Maus or Persepolis. Lives like the one led by John Lewis, are important and shouldn't be forgotten. Especially in this current climate… The art in this comic is perfectly matched to the tone of the story telling, which doesn't often happen with this kind of memoir comics!!! I'd love to get my hands on the subsequent volumes to read more about the life of John Lewis.
📘📘📘📘 4 Books!
THE SON OF NEPTUNE
[THE HEROES OF OLYMPUS #2]
by Rick Riordan 🦅🔱💎
AW YISS. ROMAN CAMP! CAMP JUPITER!! I WAS WAITING TO SEE THIS!!!! And Nico!!! Ahhhhh! Yes good. I enjoyed this second installment. I mean, it was nice to start off this new series with New People in the Same Place so to speak, but towards the end I was kinda curious about where Percy had gone and then even more curious about this OTHER Demigod camp…!!! These books are just so much fun. I don't even care anymore. Also I really love Frank Zhang. I'm just so happy he is here. Hello Frank.
📘📘📘📘 4 Books!
THE MARK OF ATHENA
[THE HEROES OF OLYMPUS #3]
by Rick Riordan 🚢🐲🕸️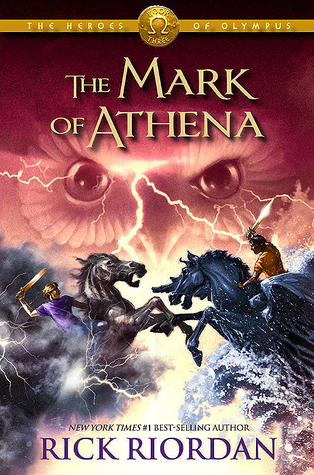 IT IS GOING DOWNNNNNNNNN! The gang's all here!! YAY!! I wish I could see what that ship really looked like. But I'm content with the one I created in my head. I love love LOVED the character development!! Like YES! They are not 12 or 13 anymore!!! And we can tell!!!! They are thinking about their relationships in an older manner! YAY! PROGRESS!!! Also my money is on Reyna being one of those well dressed and scathing lesbians that I would let walk all over my face. So many plot twists, so much adventure. AND WHAT A LITERAL CLIFF HANGER.
📘📘📘📘 4 Books!
THE HOUSE OF HADES
[THE HEROES OF OLYMPUS #4]
by Rick Riordan 😨👹😠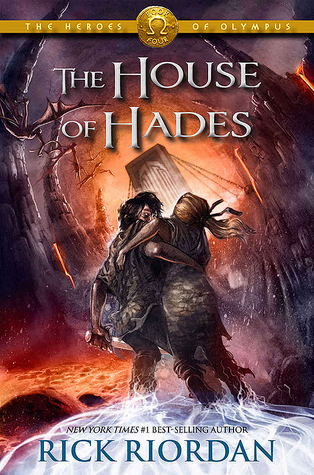 This book was a Lot. And not in a bad way. I just felt so bad for these poor kids. But positives!! LEO AND CALYPSO!! So sweet I had to puke. But not too much that I reading this book as a jaded adult was annoying. Also it was so nice to see some of the 'old' characters return like Thalia!!! Bob Says Hello will forever make me have Emotions that I did not ask for. HOW RUDE. It's like that one story arc in Hellboy with Daryl the Wendigo. uGH FEELINGS. Disgusting. BUT MOSTLY! NICO!!!! NICO!!!!! NICO!!! MY BOY! I officially have no gaydar because I DID NOT pick up on that At All. And it wasn't some kind of Dumbledore Is Gay bullshit like JKR did. I just love these books so much. 2 much fun.
📘📘📘📘 4 Books!
THROUGH THE WOODS
by Emily Carroll 🌳😱📕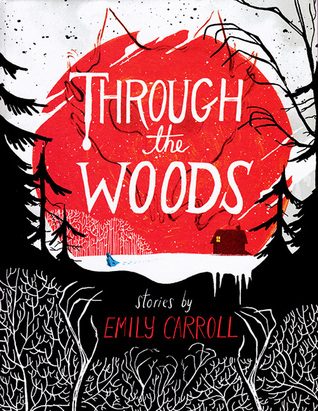 FINALLY got around to reading this as I found it on the Singapore National Library's Overdrive site!! YAY LIBRARIES!! And having digital libraries that I can access overseas!! DOUBLE YAY! Not much to say about this one other than it is freaky as hell. I mean, I kinda expected it to be CREEPIER but it was still pretty damn creepy. Beautiful art though. Worth reading all the same for the art.
📘📘📘 3 Books!