DOING A MASTERS IS HARD OK. Especially when you have mental and chronic illness issues that sometimes make you sleep a Lot and have little energy for things.
[img src: unknown]
But then this was also the period that I started my internship at Fixi London!

[img src: unknown]
MY GIANT GEEK BOYFRIEND
by Fishball EMOJI
Pretty sure I've yelled at a good handful of friends to read this comic. I laughed SO HARD the first time I read it and everyone else who's read it has also laughed just as hard and found it 100% relatable. Now I know that sounds kinda corny but like, seriously. It really is just the best comic. It is also partially online, but if you live in London you can now buy this at Orbital Comics near Leicester Square!!!
📘📘📘📘📘 5 Books!
SCENES OF THE FATHER
by Amir Hafizi & illustrated by Ong Chee Yang EMOJI
This was a sweet little comic memoir about Amir Hafizi reflecting on his father. Could be summed up as "daddy issues" and that wouldn't really be wrong either. Although it's not as DRAMA filled as you might think if someone said 'daddy issues', in my opinion. I dunno, I didn't feel much while reading it. Not that it's bad…!
📘📘 2 Books!
KUALA TERENGGANU IN 7 DAYS
by Mimi Mashud EMOJI
I really enjoyed this little travelogue!! Having not been there it was a cute lil' snapshot that felt very authentic, and not polished or 'clean' like some travelogues can be. Her work also reminded me a bit of Guy Delisle's early work, who's work is some of my favourite stuff.
📘📘📘 3 Books!
BEIJING IN 5 DAYS
by Mimi Mashud EMOJI
This was just as fun as the other, possibly more fun since the observations were from a point of view where Mimi was clearly out of her element! At least in a location sense..! There were quite a few things that had me cracking up too. I hope she has more coming out because I will 100% check them out!!
📘📘📘 3 Books!
THE SHIP BEYOND TIME
[THE GIRL FROM EVERYWHERE #2]
by Heidi Hellig EMOJI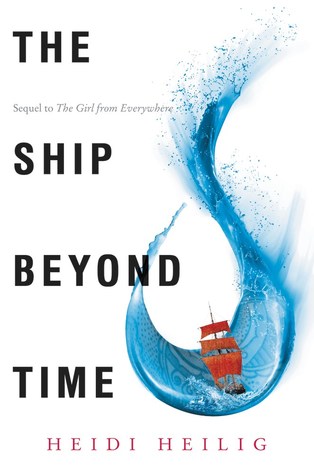 OK SO this was the second and final part of this story that started with The Girl From Everywhere, and I actually got an advance copy of it from NetGalley, but didn't get around to reading it until April..
I'm not sure I liked this one as much as the first??? There was a LOT of romance in it, which bores me. I'm not a romantic book person, even if it's LGBT romance!! Anyway, it IS a YA book so I can't really complain since me, a 26 year old cynical woman, don't really fall in the target demographic. Apart from that, it was pretty fun! The mythical location this time was in France which was pretty cool. Honestly I'm just glad that loose ends were tied up and everything made sense in the end.
Long story short, this is a fun small series that you could probably eat in a weekend that is diverse in the best ways and has time travel. Time travel is always fun. And yes the laws of time travel are fiddled with but it works out.
📘📘📘 3 Books!
A JIGSAW OF FIRE AND STARS
by Yaba Badoe EMOJI [Release: 7 Sept 2017]
I got this from NetGalley in exchange for a review!
This is a YA book but honestly the writing felt like a Middle Grade book instead. Nothing wrong with that though! But the content does touch on sex trafficking as well as illegal immigration so I suppose it fits as a YA novel.
Sante is 14 and the lead of this book, she was adopted as a baby by a group of travellers of a circus and it's not clear at the start in what era this is set in. Later on they mention things like phones and mopeds and computers, so I'm pretty sure it's at least in the last 10 years.
ANYWAY Sante has some kind of mental powers or a connection to 'the great beyond' and has known all her life, however when performing somewhere in Spain, she spots someone in the audience who triggers her powers to go a bit haywire. The key here is that Sante knows literally nothing about her origins, only that she's of African descent and was found in a treasure chest filled with jewels, a dagger and a flute.
Overall I though this book was a really good approach to discussing hard topics such as sex trafficking as well as the current immigration crises. Despite feeling like the writing was a bit too young, it was still engaging and interesting! I did appreciate that not all the romances in this book were heterosexual…!!
📘📘📘 1 Books!