'Laugh silently to keep from yelling and kicking down a shelf in the library/bookstore'..
Ya feel me?

[img src: unknown]
I'm so tired of Holocaust/WW2 narratives for Jewish characters in books. Like there's more to Jews than the Holocaust, there are more stories about us than that, both non-fiction and fiction.
And as a kid I didn't enjoy those books because honestly they TERRIFIED me. I wasn't that distant from it, it was my paternal grandfather that was in a camp, not my great-grandfather. I mean, I never met him, but it was enough to make me realise just how recent it was.
So based on that particular Tumblr post, I thought I'd make a list of books about Jewish characters that are NOT Holocaust narratives or set in the WW2 years.

[img src: unknown]
Also probably an unpopular opinion, but if you don't understand a lot of the Judaism or Jewish references in the book and you're not Jewish, then it's probably not for you???? Unless you try to understand yourself, don't complain that it wasn't fully explained for you. 🤔
Categories:
✡️  Contemporary
✡️  Historical Fiction
✡️  Non-Fiction
✡️  YA / Middle Grade
✡️  SciFi / Fantasy
✡️  Graphic Novels
✡️  Picture Books
Books I have actually read are marked with a: 📘 
✡️✡️CONTEMPORARY
 💙 ITCHE AND ARI by Dov Zeller
 Ari is a trans guy in his late twenties, for whom music has always guided his life. His job becomes unbearable when his beloved boss leaves and he practically has to pay his band to play. But lately he's been thinking if the mutual adoration with his best friend Itche might not be a "happily ever after". Especially when an actress sweeps Itche of his feet and away from Ari. And when a fascinating music project become available to him, he's faced with a choice – to remain in his comfort zone or take a risk that could bring joy and meaning to his life.
[ LGBT – TRANS MC + ROMANCE ]
💙 SOMEONE TO RUN WITH by David Grossman
On the streets of Jerusalem, an awkward and shy teen boy named Assaf tries to return a lost dog to his owner, a girl named Tamar, who has run away from home to rescue a drug addict.
💙 DISOBEDIENCE by Naomi Alderman

The death of a close knit Orthodox community's esteemed rabbi sets in motion plans for a memorial service and the search for a replacement. The rabbi's likely successor and nephew, Dovid, calls his cousin Ronit in New York to tell her that her father has died. Ronit left the community long ago to build a career for herself, creates a tear in the fabric of the community with her reappearance.
[ LGBT – LESBIAN ]
💙 LIGHT FELL by Evan Fallenberg

Twenty years have passed since Josepth left his entire life behind, his wife and five sons, his father and the religious farming community in Israel where he grew up, when he fell in love with a man, a genius rabbi called Yoel Rosenzweig. Their affair is over but it continues to reverberate through his life and his family in ways that none of them could have predicted. For his 50th birthday, Joseph is preparing to have his five sons and the daughter in law he has never met, spend Shabbat with him in the Tel Aviv penthouse she shares with a man – who is out of town. While some of his son have become very religious, another is completely secular. Their feelings toward their father range from acceptance to resentment. As they prepare for this reunion, they must confront what was, what is and what could have been…
[ LGBT – GAY ]
💙 GIRL UNWRAPPED by Gabriella Goliger

 A coming of age story set in 1960s Montreal about the burdens and blessings of history, the divided self and the quest to be whole. Toni Goldblatt's awakening to 'taboo' desire conflicts with her Holocause-scarred parents' expectations. Yearning to reinvent herself, she flees to Israel in the wake of the 1967 war, but the Zionist dream doesn't save her. On her return she discovers kindred spirits in the underground Lesbian bar scene, and starts to find her own path.
[ LGBT – LESBIAN ]
✡️✡️HISTORICAL FICTION
💙ALL OTHER NIGHTSby Dara Horn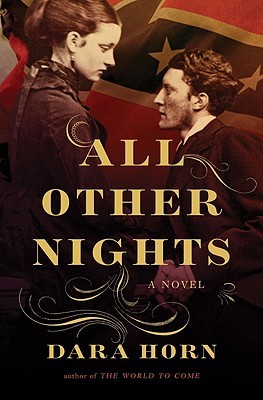 On Passover 1862, Jacob Rappaport a Jewish soldier in the Union Army during the Civil War, is ordered to murder his own uncle in New Orleans, who is plotting to assassinated President Lincoln. After this mission, he is recruited to pursue another enemy agent, the daughter of a Virginia family friend. But this time, his assignment isn't to murder the spy, but to MARRY her. Based on the real personalities such as Judah Benjamin, the confederacy's Jewish secretary of state and spymaster, and other historical facts, this is a story of men and women driven to the limits of loyalty and betrayal.
[ CIVIL WAR ]
💙THE MARRIAGE OF OPPOSITES by Alice Hoffman
Growing up on St. Thomas in the early 1800s, Rachel dreams of a life in faraway Paris. Rachel's ,other, a pillar of the small refugee community of Jews who escaped the Inquisition, has never forgiven her daughter for being difficult and refusing to live by the rules. Rachel's salvation growing up as been their maid, Adelle, and her belief in her strenghts, and Rachel's deep life long friendship with Jestine, Adelle's daughter. But her life is not her own. To save her father's business she is married off to a widower with three children, but when he suddenly dies, a much younger nephew arrives from France to settle the estate, and Rachel seizes her own life story, beginning a defiant and passionate love affair that sparks a scandal that affects her whole family, and her favourite son. Who becomes one of the greatest artists of France… [Camille Pissarro, father of Impressionism]
[ ROMANCE + SEPHARDIC JEWS ]
I also recommend another book by Hoffman, "The Museum of Extraordinary Things" which also is about Jewish protagonists! 📘 
💙THE GOLEM AND THE JINNI by Helene Wecker 📘 
Chava is a golem, brought to life by a disgraced rabbi who dabbles in dark Kabbalistic magic. When her master, the husband who commissioned her, dies at sea on the voyage from Poland, she is unmoored and adrift as the ship arrives in New York in 1899. Ahmad is a jinni, a being of fire, born in the ancient Syrian desert. Trapped in a copper flask by a Bedouin wizard centuries ago, he is accidentally released by a tinsmith in a Lower Manhattan shop. Though no longer imprisoned, he is not entirely free – an unbreakable band of iron bands him to the physical world. A story about these unlikely creatures who become unlikely friends, and whose tenuous attachment challenges their opposing natures – until the night a terrifying incident drives them back into their separate worlds. But a powerful threat will reunite them, challenging their existence and forcing them to make a fateful choice.
[ FANTASY + MAGICAL REALISM ]
💙REUBEN SACHS by Amy Levy 📘 
Oscar Wilde wrote of this book, "Its directness, its uncompromising truths, its depth of feeling, and above all, its absence of any single superfluous word, make Reuben Sachs, in some sort, a classic." The story of an extended Anglo-Jewish family in London, focuses on the relationship between two cousins, and the tensions between their Jewish identities and English society. In part a reaction to George Eliot's romanticized view of Victorian Jews in 'Daniel Deronda', caused controversy on its first publication.
[ VICTORIAN + CLASSICS ]
Printed by the independent publishers from London, Persephone Press! They champion the works of forgotten women from the 1950s and back.
💙GENTLEMEN OF THE ROAD by Michael Chabon
Zelikman, a pale and rail thin moody, itinerant physician, fond of jaunty headgear, and ex-soldier Amram, a gray haired giant of a man, as quick with a razor tongued witticism as he is with a sharpened battle-axe, make an odd pair. But they are brothers under the skin and comrades in arms, and they make their rootless way through the Caucasus Mountains circa 950 A.D. living as they please and surviving however they can. Nothing though, has prepared them to be roped into service as escorts and defenders to a prince of the Khazar Empire. Usurped by his uncle, the ill-tempered young royal burns to reclaim his rightful throne… Will these gentlemen of the road be prepared to become generals in a full scale revolution?
[ ADVENTURE + FANTASY ]
💙SHYLOCK'S DAUGHTER by Marjam Pressler
Jessica leads a relatively privileged life in her Jewish Ghetto, as her father is a wealthy moneylender. One day, by chance, she meets a handsome aristocrat named Lorenzo who seems to have everything Jessica longs for, and who promises to make her his wife. However, she must convert to Christianity. Will she follow her desires even if it means leaving behind everyone that she loves and abandoning her religion? Will her father, Shylock, survive this betrayal? Expanding on 'The Merchant of Venice', this book gives a sympathetic look at Shylock, and a historically accurate look into both Ashkenaz and Sephardic Jewish relations with Christians in 16th century Italy.
[ YA ]
💙 MY NAME IS ASHER LEV by Chaim Potok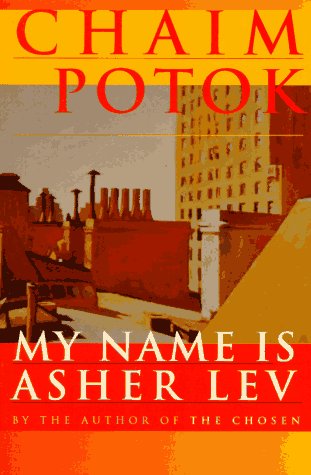 Asher Lev is a Hassidic Jew who is also an artist who is compulsively driven to render the world he sees and feels, even when it leads him to blasphemy.. Growing up in a cloistered Hassidic community in post-war Brooklyn, he finds that his gift threatens to estrange him from this world and the parents he adores.
[ CLASSICS ]
💙BY FIRE, BY WATER by Mitchell James Kaplan
Luis de Santángel, chancellor to the court and longtime friend of King Ferdinand, has had enough of the Spanish Inquisition. As the power of Inquisitor General Torquemada grows, so does the brutality of the Spanish Church and the paranoia it inspires. From a family of conversos, Luis is an easy target, and as he witnesses the horrific persecution of his loved ones, he begins to slowly reconnect with his Jewish faith. Feeding his curiosity about his path is his growing love for Judith Migdal, a clever and beautiful Jewish woman navigating the mounting tensions in Granada. While he struggles to decide what his reputation is worth and what he can sacrifice, one man offers him a chance, a hope for a better world. Christopher Columbus has plans to discover a route to paradise and only Luis can help him.
[ SEPHARDIC JEWS ]
💙APPRENTICE by Maggie Anton

Hisdadukh, is the youngest child of Talmudic sage Rav Hisda. Her world is full of conflict, Rome fast becoming Christian battles Zoroastrian Persia for dominance, while Rav Hisda and his colleagues struggle to establish new Jewish traditions after the destruction of Jerusalem's Holy Temple. Against this backdrop, she embarks on the tortuous path to become an enchantress in the very land where the word 'magic' originated. But the conflict peaks when her father brings his two best students before her, a mere child, and asks who she will marry. She replies, 'Both of them'. Soon she marries the older student, although the younger one has not lost interest in her. After her new found happiness is derailed by a series of tragedies, she must decide if she truly wants to become a sorceress. This is based on actual Talmudic texts.
[ FANTASY ]
💙 THE LIONS OF AL-RASSAN by Guy Gavriel Kay
The Asharite empire has splintered into decadent city-states led by warring petty kings. King Almalik of Cartada is on the ascendancy, aided by his friend and adviser, the notorious Ammar ibn Khairan, a poet, diplomat and soldier, until a summer afternoon of savage brutality changes their relationship forever. Meanwhile, in the north, the conquered Jaddites' most celebrated and feared military leader, Rodrigo Belmonte, driven into exile, leads his mercenary company south. In the dangerous lands of Al-Rassan, these two men from different worlds meet and serve for the first time, the same master. Sharing their interwoven fate and increasingly torn by her feelings, is Jehane, the accomplished court physician. An account of life in the waning days of Golden Age Spain, with adventures and political intrigue, this story stars a Jew, a Muslim and a Christian.
[ ALTERNATE HISTORY + FANTASY ]
✡️✡️NON FICTION
💙 UP, UP AND OY VEY by Simcha Weinstein 📘
Up, Up and Oy Vey! chronicles the stories behind the story about the origins of some of the most famous superheroes. While the Jewish contribution to theater and film and music have been well documented, the Jewish role in American superheroes has not been. [I found this book as a teenager in a Borders years ago on holiday and I could not believe that so many of these superheroes had such Jewish origins! Either by proxy through their creators, or quite literally through their own stories. Though now 10 years old, I still enjoy flipping back to this book once in a while to remind myself that you can't have comics without Jews.]
[ COMICS + GRAPHIC NOVELS ]
💙NICE JEWISH GIRLS by Evelyn Torton Beck
Literally just an anthology of essays, poems, recorded conversations and stories, by Lesbian Jews about being Lesbian Jews! [Haven't read this yet myself, but it's worth noting this could be somewhat dates since it was first printed in 1982…!]
💙 PASTRAMI ON RYE by Ted Merwin
The New York Jewish deli has been an iconic institution in both Jewish and American life. It rivaled and even surpassed the synagogue as a social gathering place for the Jewish communities. In popular culture it has been the setting for classics, and after a long period languishing in the trenches of the old fashioned, it is experiencing a nostalgic resurrection. This is the first full length history of the New York Jewish deli. Ted Merwin argues that the deli reached it's flowering not in the immigrant period, but in the interwar era, when the children of Jewish immigrants celebrated the first flush of success by downing cheesecake and sandwiches. Ultimately, upwardly mobile American Jews discarded the deli as they transitioned from outsider to insider status in the middle of the century. Now Jews are returning to the deli to cult status as they seek to reclaim their cultural identities.
[ FOOD + HISTORICAL ]
💙 TREYF by Elissa Altman
A person can eat treyf, a person can be treyf. Elissa Altman explores the tradition, religion and family expectation, and the forbidden that were fixed points in her 1970s Queens, New York childhood. Every part of her youth was laced with contradiction and hope, betrayal and yearning for acceptance: synagogue on Saturday and Chinese pork ribs on Sunday; Bat Mitzvahs followed by shrimp in lobster sauce luncheons; her old-country grandparents whose kindness and love were tied to unspoken rage, and her bell bottomed neighbors whose adoring affection hid dark secrets. Spanning from 1940s wartime Brooklyn to 1960s and 1970s Queens to present day rural New England, Treyf captures the collision of youthful cravings and grown up identities; a vivid tale of what it means to come to yourself both in spite of and in honour to your past.
[ FOOD + MEMOIR ]
💙 BALANCING ON THE MECHITZA by Noach Dzmura
The contributors to this book – activists, theologians, scholars and other transgender Jews – share for the first time in a printed volume their theoretical contemplation as well as rite of passage and other trans-formative stories. Balancing on the Mechitza introduces readers to a secular transwoman who interviews her Israeli and Palestinian peers and provides cutting edge theory about the construction of Jewish person-hood in Israel; a transman who serves a s a legal witness for a man during a conversion ritual; a man deprived of testosterone by an illness who comes to identify himself with passion and pride as a Biblical eunuch; and a gender variant person who explores how to adapt the masculine and feminine pronouns in Hebrew to reflect a non-binary gender reality.
[ LGBT – TRANS & NON-BINARY + ANTHOLOGY ]
💙 BLOOD, MARRIAGE, WINE AND GLITTER by S. Bear Bergman
In this essay collection, Bear describes and rearranges ideas about family as a daughter, husband, father and friend. In Bear's extended family "orchard", drag sisters, sperm-donor's parents, Sparkles and other relations provide more branches of love, support and sustenance than a simple family tree. Defiantly queer yet full of tenderness and hilarity, this book is a beautifully thought-provoking book that redefines the notion of what family is and can be.
[ LGBT – TRANS + MEMOIR ]
💙 KEEP YOUR WIVES AWAY FROM THEM by Miryam Kabakov
Reconciling religion with queerness has always been an enormous challenge. When the religion is Orthodox Judaism, the task is even more daunting. This anthology takes on that challenge by giving voice to gender-queer Jewish women who were once silenced, and rendered invisible, by their faith. Telling the stories of those who have come out, who are still closeted, living double lives or struggling to maintain an integrated "single life" in relationship to traditional Judaism, are both enlightening and edifying. While a number of films and books have explored the lives of queer Orthodox and observant Jews, this one explores in depth what happens after the struggle, when the real work of building integrated lives begins.
[ LGBT – GENDERQUEER & QUEER + ANTHOLOGY ]
💙 QUEERING THE TEXT by Andrew Ramer
 This book grapples with traditional midrashim, plays with homoerotic love poems from medieval Spain, and envisions alternate version of the present. Inspired by the pioneering work of Jewish feminists, using the same narrative tools as the rabbis of old, Andrew Ramer has crafted stories that anchor LGBT lives in the three thousand year old history of the Jewish people.
[ LGBT – QUEER + ANTHOLOGY + CLASSICS ]
💙 LIKE BREAD ON THE SEDER PLATE by Rabbi Rebecca T. Alpert
Like Bread on the Seder Plate is an inspiring and insightful book about the potential for lesbian partnership in Judaism. Although in Judaism women do not count, and lesbians are invisible, Rabbi Alpert demonstrates the crucial link between all Jewish women and the ongoing transformation of the Jewish tradition. The book is that refreshing mixture, a scholarly work that reads like a page turning thriller as we unravel the mystery of Jewish lesbians as agents of social and spiritual change.
[ LGBT – LESBIAN ]
✡️✡️YA / MIDDLE GRADE
💙 GONE, GONE, GONE by Hannah Moskowitz 
In the wake of 9/11 and the sniper shootings, fragile love finds a stronghold in this romance about gay Jewish and Black teen boys. It is a poignant look at what it is to feel needed, connected and alive.
💙 MY YEAR ZERO by Rachel Gold
Lauren can't figure out why she feels so crazy most of the time when her life is pretty good. She figures it's nothing she can't fix by getting her first girlfriend and doing better at school. But how is she to find a girlfriend in Duluth, Minnesota? When she meets a group of kids who are telling a SciFi story online and gets invited out, she gets more attention than ever expected from two very different girls. Troublesome Blake helps her understand that she's not the crazy one in life, but Blake's attention and insights into life and living with bipolar disorder, threaten to destroy everything Lauren has created for herself including her relationship with the charming Sierra…
[ LGBT – LESBIAN + ROMANCE + MENTAL ILLNESS + CONTEMPORARY ]
💙 NEVER MIND THE GOLDBERGS by Matthue Roth 📘
Don't think you know Hava or her place in the world. Yes she's an Orthodox Jew, but that doesn't mean she can't be punk-rock or have opinions about everything around her. But her opinions about herself can be twice as harsh… Now she's been asked to be the token Jew on a TV show about a Jewish family, trading one insular community for another. Never Mind the Goldbergs is a collision of cultures and desires, with a headstrong heroine caught in the middle. [I read this book as a tween and it blew my mind. I think it was the first book I ever read about a modern Jewish teen girl and it was one of the first things to make me realise that being Jewish didn't mean that I couldn't be like everyone else. I know that sounds silly in retrospect, but for most of my youth I was the only Jewish kid or even girl in my grade. I didn't have a Jewish female friend till I was around 16 or 17. ]
[ REALISTIC / CONTEMPORARY ]
💙 AUDACITY by Melanie Crowder 
A novel told in verse, Audacity is inspired by the real life story of Clara Lemlich, a spirited young woman who emigrated from Russia to New York at the turn of the 20th century and fought tenaciously for equal rights. Bucking the norms of both her traditional Jewish family and societal conventions, Clara refused to accept substandard working conditions in the factories on Manhattan's Lower East Side. For years, Clara devoted herself to the labour fight, speaking for those who suffered in silence. In time, sh convinced the women in the factories to strike, organise and mobilise, unionise, culminating in the famous Uprising of the 20,000.
[ HISTORICAL + POETRY ]
💙 STARGLASS by Phoebe North 📘
Terra has never known anything but life aboard the Asherah, a city within a spaceship that left Earth 500 years ago in search of refuge. At sixteen, working a job that doesn't interest her, and living with a grieving father who only notices her when she's yelling, Terra is sure that there's got to be more to life than what she's got. But when she inadvertently witnesses the captain's guard murder an innocent man, Terra is suddenly thrust into the dark world beneath her ship's idyllic surface. As she's drawn into a secret rebellion determined to restore power to the people, Terra discovers that her choices may determine life or death for the people she cares most about. With mere months to go before landing on the long-promised planet, Terra has to make the decision of a lifetime – one that will determine the fate of her people… [How is this book Jewish? Well look at the name of the ship. ASHERAH. AND ALSO! So many Yiddish and Hebrew words pepper the book! And everyone is basically a Secular Jew. I really enjoyed reading this a couple years ago and totally recommend it as fun Jewish SciFi.]
[ FANTASY + SCIFI – DYSTOPIAN ]
💙 GRAVITY by Leanne Lieberman
Ellie Gold is an Orthodox Jewish teenager in Toronto in the late eighties, who has no doubts about her strict religious upbringing until she falls in love with another girl at her grandmothers cottage. Aware that her possible sexual orientation clashses with her Jewish observance, Ellie feels forced to either alter her sexuality or leave her community. Meanwhile, Ellie's mother, Chana, becomes convinced she has a messianic role to play and her sister, Neshama, chafes against the restrictions of her faith. Ellie is afraid there is no way to be both gay and Jewish, but her mother and sister offer alternative concepts of God that help Ellie find a place for herself as a queer Jew.
[ LGBT – LESBIAN + CONTEMPORARY ]
💙 THE INQUISITORS APPRENTICE by Chris Moriarty
Being an Inquisitor is no job for a nice Jewish boy. But when Sacha Kessler learns he can see witches, he's yanked out of everyday life and apprenticed to the New York police department's star Inquisitor, Maximillian Wolf. Their mission is to stop magical crime, and New York at the beginning of the 20th century is a magical melting pot where each ethnic group has its own brand of homegrown witchcraft and magical gangs. Soon Sacha has teamed up with fellow apprentice Lily Astral, daughter of one of the city's richest Wall Street Wizards, and their first job is to find out who's trying to kill Thomas Edison. Edison has invented a mechanical witch detector that could unleash the worst witch hunt in American history. But as the investigation unfolds, all the clues lead back to the Lower East Side and Sacha soon realises that his own family could be accused of murder!
[ HISTORICAL + FANTASY ]
💙 THE PATH OF NAMES by Ari B. Goelman
Dahlia Sherman loves magic and math club, but not nature walks and Hebrew campfire songs and mean girls. All of which makes a week at Jewish summer camp pretty much the worst idea ever. But within minutes of arriving, Dahlia realises that it might not be as bad as she'd feared. First she sees two little girls walk right through the walls of her cabin. Then come the dreams, frighteningly detailed visions of a young man being pursued through 1930s New York City. How are the dreams and the girls related? And why is Dahlia the only one who can see them? And what's up with the overgrown, strangely shaped maze that non of the campers are allowed to touch? Dahlia's increasingly dangerous quest for answers will lead her to the center of the maze, but it will take all her courage and smarts to get her back out again…
[ FANTASY + MYSTERY ]
💙 HOW MIRKA GOT HER SWORD by Barry Deutsch
11 year old Mirka Herschberg isn't interested in knitting lessons from her stepmother, or how to find a husband advice from her sister, or you better not warnings from her brother. She only wants to fight dragons! Granted, no dragons have been breathing fire around Hereville, the Orthodox Jewish community where Mirka lives, but that doesn't stop her from honing her skills. She stands up to bullies, battles a very large menacing pig and boldly accepts a challenge from a mysterious witch, a challenge that could bring Mirka her heart's desire – a dragon slaying sword! All she has to do is find and outwit the giant troll who's got it!
[ GRAPHIC NOVEL ]
💙ARE YOU THERE GOD? IT'S ME MARGARET by Judy Blume
Margaret Simon is almost 12, likes long hair, tuna fish, the smell of rain and things that are pink. She just moved from New York to Farbook, New Jersey and is anxious to fit in. When her new friends form a new secret club to talk about private subjects like boys, bras and getting their first periods, she is happy to belong. But none of them can believe that she doesn't have a religion, or that she isn't going to the Y or the Jewish Community Center. What they don't know is that Margaret has her own very special relationship with God. She can talk to God about everything. A classic novel for children, especially of interfaith backgrounds.
[ CLASSICS + INTERFAITH ]
💙 MY BASMATI BAT MITZVAH by Paula J. Freedman
Tara – Hindi for star – Feinstein has a lot more than her Torah portion on her mind on the lead up to her bat mitzvah. Between Hebrew school and study sessions with the Rabbi, there doesn't seem to be enough time to hang out with her best friend, who might also be her boyfriend, and her other best friend, who is getting too cozy with that snotty Sheila Rosenberg. Not to mention working on her robotics project with the class clown, or figuring out what to do with a priceless heirloom sari that she accidentally ruined. Amid all this drama, Tara considers how to balance her Indian and Jewish identities and what it means to have a bat mitzvah while questioning her faith.
[ CONTEMPORARY + INTERFAITH ]
💙 THE NIGHT JOURNEY by Kathryn Lasky
13 year old Rachel dreads the afternoons she has to spend with her great-great-grandmother, Nana Sashie, until she begins to reminisce about her childhood in Russia and Rachel finds herself caught up in a whirlwind of memories.. As the events and characters of Sashie's past come to life, Rachel discovers a distant country and time, when Jews were forced to serve in the Czar's armies or were murdered in pogroms, a time when 9 year old Sashie devised a wonderful plan to save her family from danger.. 
[ HISTORICAL + FANTASY ]
💙 MY GUARDIAN ANGEL by Sylvie Weil
This vividly illustrated novel tells the harrowing tale of a smart feisty 12 year old Jewish girl in 11th century France during the first Crusade.. Elvina is not your average 12 year old, she adores reading and writing, studying, and likes boys. And she detests silly girls' chores like keeping chicken eggs warm until they hatch. But she is also skilled in the art of healing, a skill that ultimately gets her in trouble. The Crusades are on a campaign to rid France of Jews. They live in terror and are in high alert that danger is drawing near to their town. One night while Elvina is alone in her house, she hears a rap on the door. Can her guardian angel keep her safe?
[ HISTORICAL ]
✡️✡️SCIENCE FICTION / FANTASY
💙 THE CURE by Sonia Levitin
Gemm 16884 is given the choice between being recycled or undergoing a painful and mysterious cure because they've been branded a deviant, and therefore a threat to the utopian society of Conformity, Harmony and Tranquility, in the year 2407. Gemm chooses the cure and suddenly finds himself living the life of Johannes, a 16 year old Jewish musician in Starsbourg, Germany in 1348, at the onset of the Black Death. As the disease spreads, the townspeople begin to accuse Jews of causing the disease. Surrounded by hatred and horror, Johannes struggles to hold on t his family and faith as well as his belief in the basic goodness of human beings. Can he return to the future and become Gemm again after having known such emotions as pain and love?
[ YA + SCIFI – DYSTOPIAN + HISTORICAL ] 
💙 HE, SHE AND IT by Marge Piercy
Life as we know it has changed for all time in the middle of the 21st century. Shira Shipman's marriage has broken up and her young son has been taken from her by the corporation that runs her zone, so she has returned to Tikva, the Jewish free town where she grew up. There she is welcomed by Malkah, the brilliant grandmother who raised her, and meets an extraordinary man who is not a man at all, but a unique cyborg implanted with intelligence, emotions, and the ability to kill…
[ FANTASY + SCIFI – DYSTOPIAN ]
💙 JEWS VERSUS ALIENS by Lavie Tidhar & Rebecca Levene 📘
In Jews Versus Aliens, editors Lavie Tidhar and Rebecca Levene have gathered together brand new stories from the light-hearted to profound, all asking for the first time, the question you didn't even know you wanted answered – what happens when the aliens arrive, only to encounter… Jews?
[ SCIFI + SHORT STORIES ]
💙 THREE PARTITIONS by Bogi Takács
A community of Orthodox Jews who live on a planet that is living itself, this short story explores ideas of community and individuality, gender binary and fluidity, rejection and acceptance. inclusion and hope. Also included: telepathy and shape-shifting aliens. This planet is willing to accept the humans, but it has unconscious 'immune' systems that will reject the citizens if it senses hostility of any kind. The planet created an entity without gender who represents the planet called Adira, and in order for the humans to remain they must accept this being wholeheartedly or be rejected by their home…
[ SCIFI + LGBT – TRANS + SHORT STORIES ]
💙 CENTRAL STATION by Lavie Tidhar
A worldwide diaspora has left a quarter of a million people at the foot of a space station. The city is a weed, growth left unchecked. When Boris Chong returns to Tel Aviv from Mars, much has changed. His ex-lover is raising a strangely familiar child that can tap into the data-stream of a mind with the touch of a finger. His cousin is infatuated with a robotnik, a damaged cyborg soldier, his father is terminally ill with a multi-generational mind-plague, and a hunted data vampire has followed Boris to where she's forbidden to return. Above them all is Central Station, the interplanetary hub between all things, the constantly shifting Tel Aviv. Everything is connected by Others, powerful alien entities who through the Conversation, are just the beginning of irrevocable change.
[ SCIFI – CYBERPUNK ]
💙 THE SECOND MANGO by Shira Glassman
Queen Shulamit was never expected to inherit the throne of the tropical land of Perach so young. At twenty, grief stricken and fatherless, she's also coping with being the only lesbian she knows, after her sweetheart ran off. To top it all off, she's also the victim of severe digestive problems that nobody believes. When she meets Rivka, an athletic and assertive warrior from the north who wears a mask and pretends to be a man, she finds the source of strength she needs so desperately. Unfortunately for her, Rivka is straight, but Shulamit needs a surrogate sister just as much as she needs a girlfriend. Especially if the warrior is willing to take her around on the back of her dragon in search for other women! Soon the search for a royal girlfriend turns into a rescue mission when they discover a temple full of women turned to stone…
[ LGBT – LESBIANS + ROMANCE + HIGH FANTASY ]
💙 BURNING GIRLS by Veronica Schanoes
A Jewish girl educated by her grandmother as a healer and witch in an increasingly hostile environment in late 19th century Poland, must deal with a demon plaguing her family, in addition to the natural danger of destruction by the Cossacks…
[ SHORT STORIES + HORROR + FANTASY + HISTORICAL ]
💙 THE DYKE AND THE DYBBUK by Ellen Galford
Dybbuk Kokos, a fiesty soul stealing demon of medieval Jewish folklore, has been trapped in a tree for 200 years. When lightning strikes and Kokos is released, she finds herself in the world of the 20th century – as the disgruntled employee of the multinational corporation, Mephistco. In order to keep her job and fulfill an ancient curse, she must hunt down the descendant of the woman she was instructed to haunt centuries ago. No easy task when that descendant happens to be Rainbow Rosenbloom, London taxi driver, film critic, lesbian and niece to a pack of formidable aunts…
[ LGBT – LESBIANS + FOLKLORE + FANTASY ]
💙 MINDEL AND THE MISFIT DRAGONS by Xianna Michaels
The story of a brave Jewish girl living in a castle where keeping Sabbath is very difficult and where unknown villains are defacing sacred scrolls. In her quest to keep her family home, Mindel meets three dragons who are considered misfits, but whose very oddities may save the castle.
[ POETRY + FANTASY ]
💙 ISRA-ISLE by Nava Semel
In September 1825, Mordecai Manuel Noah bought Grand Island, downriver from Niagara falls, from the local Native Americans as a place of refuge for the Jewish people and called it, 'Ararat'. But no Jews came. What IF they had followed him? In this alternate historical account, Jews from throughout the world fled persecution and came to the island. It becomes the smallest state in the US, Israel does not exist, there was no Holocaust. In this new scenario, Semel stimulates new thinking about memory, Jewish-Israeli identity, attitudes towards minorities, women in top political positions, and the place of cultural heritage.
[ FANTASY/SCIFI – ALTERNATE HISTORY ]
✡️✡️GRAPHIC NOVELS
💙 THE RABBI'S CAT by Joann Sfar 📘
The story of a widowed Rabbi in 1930s Algeria, his daughter, and their talking cat – a philosopher full of scathing humour and surprising tenderness. After eating the family parrot, the cat gains the ability to speak and immediately begins to tell lies. The Rabbi then vows to educate him in the ways of the Torah, while the cat insists on studying Kabbalah and having a Bar Mitzvah. Soon master and cat will overcome their shared self-pity and jealousy to accompany his daughter to France for her wedding, and to meet the in-laws. Full of drama and adventure, this graphic novel vibrantly brings to life a time and place where Jews and Arabs coexisted…
[ HUMOUR + HISTORICAL + SEPHARDIC JEWS ]
💙 UNTERZAKHN by Leela Corman 📘
Unterzakhn, Yiddish for 'underthings', tells the heartbreaking story in New York's Lower East Side at the turn of the 20th century, through the eyes of twin sisters whose lives take radically, and tragically different paths…
💙 MARKET DAY by James Sturm 📘
Mendleman's life goes through an upheaval when he discovers he can no longer earn a living for his growing family doing the work that defines him – making rugs by hand. A proud artisan, he takes his donkey drawn cart to the market only to be turned away when the shop he once sold to, now stocks only cheaply made merchandise. As the realities of the marketplace sink in, Mendleman unravels. A quiet and reflective portrait of Eastern Europe in the early 1900s, Sturm brings to life the hustle and bustle of an Old World marketplace on the brink of industrialization.
[ HISTORICAL ]
💙 MAKE ME A WOMAN by Vanessa Davis 📘

A collection of vignettes about being young, Jewish, female and single. Pure chutzpah and gorgeously illustrated in watercolours, none of Davis' stories are too painful to tell, too off limits or too personal. Strips from her daily diary create an original and refreshing niche into a modern Jewish identity. 
[ MEMOIR + NON FICTION ]
💙 A CONTRACT WITH GOD by Will Eisner 📘
Through four interwoven stories, A Contract With God expresses the joy, exuberance, tragedy and drama of life on the mythical Dropsie Avenue in the Bronx, New York. The legendary book that launched a new art form and reaffirmed Will Eisner as one of the great pioneers of American graphics.
It would be a SIN to make a list like this and NOT include any Eisner. 
💙 HOW TO UNDERSTAND ISRAEL IN 60 DAYS OR LESS by Sarah Glidden  📘
A sensitive and deeply thoughtful personal examination of a highly charged issue, an account of a journey Sarah never expected to take. Her experience clashes with her preconceived notions again and again, especially when she tries to take a non-chaperoned excursion into the West Bank. As she struggles to 'understand Israel', she is forced to question her beliefs, and then her own identity.
[ NON FICTION + TRAVEL + MEMOIR ]
💙 THE ADVENTURES OF RABBI HARVEY: JEWISH WISDOM AND WIT IN THE WILD WEST by Steve Sheinkin 
After finishing school in New York, Rabbi Harvey traveled west in search of adventure, and work as a Rabbi. His journey took him to Elk Spring in Colorado, and when he managed to outwit the ruthless gang that had been ruling there, the people invited him to stay as the town's Rabbi. Like any good collection of Jewish folktales, these stories contain layers of humour and timeless wisdom.
[ WESTERN + YA + HUMOUR ]
✡️✡️PICTURE BOOKS
💙 SOMETHING FROM NOTHING by Phoebe Gilman 📘
The blanket Joseph's grandfather made him is transformed into many things as the years go by: a jacket, a vest, a tie, a handkerchief, a button…
A favourite of mine as a child, I ADORED the illustrations throughout the book of the mice that lived under the house and how they mimicked the goings on above them. 
[ HISTORICAL + FANTASY ]
💙 HERSCHEL AND THE HANUKKAH GOBLINS by Eric A. Kimmel & illustrated by Trina Schart Hyman 📘
A traveler rids a village synagogue of goblins…
Again, another favourite of mine as a kid. The illustrations in this book are TO DIE FOR. But honestly all the Jewish kids books by Kimmel are amazing. Especially if Trina does the art for them.
[ HISTORICAL + FANTASY + HOLIDAY – HANUKKAH ]
💙 THE LATKE WHO COULDN'T STOP SCREAMING by Lemony Snicket AKA Daniel Handler & Lisa Brown
I love the blurb for this:
"Latkes are potato pancakes served at Hanukah. Lemony Snicket is an alleged children's author. For the first time in literary history, these two elements are combined in one book. People who are interested in either or both of these things will find this book so enjoyable it will feel as if Hanukah is being celebrated for several years, rather than eight nights."
[ HUMOUR + HOLIDAY – HANUKKAH]
💙 GOLEM by David Wisniewski 📘
A unique retelling of a classic tale using beautiful cut-paper illustrations, Golem is a dramatic tale of supernatural forces invoked to save an oppressed people.
💙 HANUKKAH BEAR by Eric A. Kimmel & illustrated by Mike Wohnoutka 📘
Almost blind and deaf, a woman known for her delicious latkes mistakes a visiting bear for her Rabbi.
I grew up reading this book with its older title, Chanukah Guest, as well as a different set of illustrations…! 
[ HISTORICAL + HOLIDAY – HANUKKAH ]
💙 THE PURIM SUPERHERO by Elisabeth Kushner & illustrated by Mike Byrne
Nate loves aliens and really wants to wear an alien costume for Purim, but his friends are all dressing up as superheroes and he wants to fit in.. What will he do? With the help of his two dads he makes a surprising decision…
[ HOLIDAY – PURIM + LGBT – GAY ]
💙 JALAPEÑO BAGELS by Natasha Wing & illustrated by Robert Casilla 
The delicious coming together of two cultures as the son of a Jewish baker and his Mexican wife decide what to bring to school for International Day. Comes complete with the recipes that Pablo helps his parents make!
💙 QUEEN OF THE HANUKKAH DOSAS by Pamela Ehrenberg & illustrated by Anjan Sarkar 
A multicultural family celebrate Hanukkah while incorporating traditional Indian food. Instead of latkes, the family celebrates with dosas. As the family puts the finishing touches on the holiday preparations, they accidentally get locked out of the house..
[ INTERFAITH + HOLIDAY – HANUKKAH ]
💙 ABUELITA'S SECRET MATZAHS by Sandy Eisenberg Sasso & illustrated by Diana Bryer
This book tells the fascinating and little-known story of the Crypto-jews, while illustrating the universal importance of faith for all people of religious denominations. Jacobo loves to visit his Abuelita, especially at Easter. But Abuelita has a secret, during semana santa, his grandma never makes bread but tortillas without yeast. She never eats pork, and lights two candles on Friday nights. But whenever Jacobo asks her questions, she answers, "Ah mijito, my child, it is the way of our family." One day Abuelita is finally ready to share her secret…
[ INTERFAITH + CRYPTO-JEWS – SEPHARDIC JEWS ]
💙ELAN SON OF TWO PEOPLES by Heidi Smith Hyde
"Always remember you are the son of two proud nations," Elans parents tell him when he turns 13. After celebrating his Bar Mitzvah in San Francisco, Elan, with his Jewish father and Native American mother, travel to New Mexico where he takes part in a pueblo manhood ceremony. Based on a true story!
[ HISTORICAL + INTERFAITH + NATIVE AMERICAN ]
💙 THE WOODEN SWORD by Ann Redisch Stampler & illustrated by Carol Liddiment 
Disguised in servant's clothes, an Afghani shah slips out of his palace to learn more about his people. When he meets a poor Jewish shoemaker full of faith that everything will turn out just as it should, the shah grows curious, he decides to test his faith only to find that the shoemaker's cheerful optimism cannot be shaken. A retelling of a classic Afghani Jewish folktale!
[ HISTORICAL + FOLKLORE + SEPHARDIC JEWS ]
💙 YAFFA AND FATIMA: SHALOM, SALAAM by Fawzia Gilani-Williams & illustrated by Chiara Fedele
Two neighbors, one Jewish, one Muslim, have always been best friends. When they fall on hard times, can they find a way to help each other? A retelling of a folktale with both Jewish and Arab origins, shows that differences are not always causes for conflict and friendship can overcome any obstacle.
[ FOLKLORE ]