Spent most of this month spending time with family and friends, and moving out of my flat in London…!!! A NEW CHAPTER BEGINS…….
(pls laugh at my bad pun.)

[img src: unknown]
THE FIFTH DOLL
by Charlie Holmberg 🎎😱💓
I really love the way Charlie Holmberg writes and so far everything I've read from her has been a delight to read. This book was not. And in the best way. It was kinda spooky and mysterious and then about a third of the way through shit starts to hit the fan and then YOU. CANNOT. STOP. READING…. Or at least that's what happened to me. I couldn't stop reading after a certain point and stayed up till asshole o'clock to finish the book. I JUST HAD TO KNOW WHAT WAS GONNA HAPPEN NEXT… It's such a cool concept that it almost feels obvious and a surprise that nobody has done it before???? I also appreciate that the ending is not a happy one, but also not all that terrible either. I don't want to explain too much about the book because it will spoil the suspense that you'll have while reading, so just read the blurb and decide on that!!
📘📘📘📘 4 Books!
THE WORLD OF LORE: MONSTROUS CREATURES
[THE WORLD OF LORE #1]
by Aaron Mahnke 👻💀👹
I'm a HUGE fan of the podcast so when I heard that Aaron secured not only a book deal, but a TV contract as well I was ECSTATIC!!! I love listening to the podcast when doing chores or cross stitching and it's just the right amount of spooky to give me a chill but not enough to live in my brain and terrify me for nights on end. I went into the book thinking it'd be different stories entirely but in actual fact most of the stories in here are direct transcriptions of the episodes, down to some of the wording (he writes 'episode' a few times which is kinda irritating to be honest, like couldn't you have changed a few words for the book my dude?). That being said, it's a great book for someone who hasn't listened to every episode or any at all and loves this kind of spooky TRU STORY stuff. The second volume is apparently much of the same so I doubt I'll read it unless there are a lot more unrecorded stories in it.
📘📘📘 3 Books!
SOVEREIGN
[NEMESIS #2]
by April Daniels 🌆😠🗯️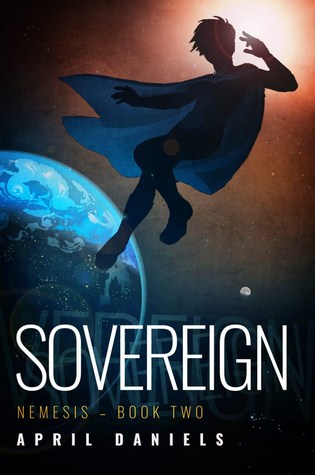 Much like the previous installment, this book does contain transphobia and some body horror, so be warned! ANYWAY! I'm so happy I got to read this sequel so soon after reading the first because I really love Danny. I just want her to be happy. Which she does get to be at some point in this book, even though when reading it, it really seems like she never will be. BUT I PROMISE SHE WILL EVENTUALLY!!!!!! She also teams up with a super cool NB hero as well! As far as sequels go, this one was pretty damn fun and does a decent job in continuing to build up the world of superheroes and metahumans that Danny lives in, and saves. Even thought the plot felt a bit like a rehash of the first, the writing and dialogue and characters were fun enough to make up for it. I was really sad when it ended. I WANTED MORE. I hope there's another book in the pipeline….
📘📘📘📘 4 Books!