I really put the pedal to the metal this month to read as much as POSSIBLE so I could reach my yearly reading goal. I also went to Phuket in Thailand for a week with my parents, where I ATTEMPTED to read more, but ended up doing more lounging around than reading… OOPS.

[img src: unknown]
THE GIRL UNDER THE BED
by Dave Chua & illustrated by Xioa Yan 👻🛏️🇸🇬
I have been meaning to read this grapic novel for a while, since I know it's at the library AND a local book…! Turns out it is actually quite a cute and spooky little thing. I'd probably even classify it as a YA graphic novel, if that is even a thing. Not scary enough to make you sleep with the lights on, it's a nice mix of local traditions to do with ghosts and adolescence. Worth a read!
📘📘📘 3 Books!
MATA HARI'S LAST DANCE
by Michelle Moran 💃🌞🗼
I don't know very much about Mata Hari and I know these sorts of books aren't really the best place to looking for the truth about historical figures, but after listening to an episode about her from Stuff You Missed in History Class, I thought I'd check this book from the library to cross it off my to-read list. It's a fun read and even though the life of Mata Hari doesn't really need much 'embroidering' to make it fun to read, I do appreciate the artistic liberties that Moran took to make the book a bit more of an addicting read. And if you ask me, Mata Hari was a scapegoat and that's all I'm gonna say about that…
📘📘📘 3 Books!
A FIERCE AND SUBTLE POISON
by Samantha Mabry 🏖️🌊🌱
Ok so when I read about this book at first when it was due to come out, I was SO EXCITED. I've never been to Puerto Rico but only know about it from the stories my mum has told me from spending her teen years in San Juan, and seeing all the beautiful photos from it. So I was really excited to hear about this book that deals with fantasy in a 'realistic' setting using the indigenous tales from the island. But…. I was so incredibly let down…. I didn't hate it…. I just wish it was better….. I know it's a YA book, but the insta-love with the main characters was so boring. Also when I realised about a third of the way in that the lead character was about a boy and his man pain was when I started to grow tired of the plot… SIGH. It could have been so much better. So much potential…
📘📘 2 Books!
THE REFRIGERATOR MONOLOGUES
by Catherynne M. Valente & illustrated by Annie Wu ♀🤦‍♀️💢
Now this. THIS. This book is EXCELLENT. If you don't know about the Women in Refrigerator phenomenon in comics, PLEASE EDUCATE YOURSELF. In the 90s Gail Simone had a blog chronicling all the tragic ways that women have been killed in comic plots for the sake of advancing the characters or stories of men. The term comes from a very real plot in a 1994 Green Lantern story where he finds his dead girlfriend in the fridge.
This book is a collection of intertwining short stories about women in the afterlife who get together to talk about the ways that their agency had been ripped from them so that their male superhero counterpart could advance in their storyline. None of the characters are any existing hero, but it's quite obvious for some to pinpoint who exactly they are paying homage to. The first story for example is obviously Gwen Stacy, girlfriend of Spider-Man. There's also one that is meant to be a Harley Quinn talking about her 'Mista J'.
YOU NEED TO READ THIS IF YOU LOVE COMICS!!!!!!!!!!!!!!!
📘📘📘📘 4 Books!
MILES MORALES: SPIDER-MAN
by Jason Reynolds 🕷️🏫😾
Not gonna lie, I am very into this trend of making novels of Marvel heroes. This one in particular goes beyond just a fun read into the life of a superhero beyond the comic page. As this is a YA novel the dialogue is obviously very "teen" and there is love drama, which could be off-putting, but Reynolds writes so well that you don't even mind it. What I really love about this novel is that it manages to weave in a storyline about being poor and black in a fancy private school, and still allows Miles to figure himself out as a superhero without making it feel like I'm reading 2 different stories at the same time. I gotta check out more books by Jason Reynolds…
📘📘📘📘 4 Books!
THE SWORD OF SUMMER
[MAGNUS CHASE AND THE GODS OF ASGARD #1]
by Rick Riordan ⚔️☠️🍃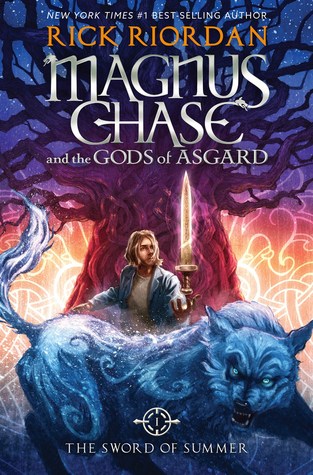 At this point I don't think I'd care what the book was about if it was written by Riordan. I'm so far the rabbit hole that I just love reading everything he writes now, even as a 26 year old. THEY ARE JUST SO DANG FUN. And Norse mythology is even more fun and bonkers on it's own so I just knew this was gonna be a barrel of laughs. I WASN'T WRONG. Props to Riordan for stepping up his diversity game despite being a straight white male author. Sam, is a muslim girl who wears a hijab AND is a Valkyrie!!! Also loved that Magnus is related to Annabeth. I mean like, of course he is right. I loved it though. I ate that shit up. Hashtag thankful that my library has the second book already for me to consume.
📘📘📘📘 4 Books!
THE ABSOLUTELY TRUE DIARY OF A PART-TIME INDIAN
by Sherman Alexie 🏀⛺🚶‍♂️
This is a very powerful read disguised in a YA/Middle Grade novel about growing up. I mean there's not much to say apart from you should read this #OwnVoices book about growing up on a reservation, and the struggle to fight the vicious cycle that traps it's people there. I'm giving it 3 stars though because I felt at times the plot was a bit fast and could have done with a bit more fleshing out, but I can see it being a more powerful read for a kid that has never experienced or thought to think of the topics brought up in the book.
📘📘📘 3 Books!
UNDER A PAINTED SKY
by Stacey Lee 🤠🎻🐍
I feel a bit cheated by this book, but it was my fault for misreading the blurb. I thought this book was gonna have some LGBTQ action or themes, but alas, it was just girls presenting as boys to escape their situation. SIGH. But it's ok, because I enjoyed it anyway! I can't complain though, a chinese and black girl escape after an 'accidental' murder without really thinking and end up on the trail to California with a troupe of cowboys. I really loved the way Stacey Lee wrote this so I'm def gonna pick up her other book ASAP!! The relationship between the 2 girls is so touching and pure and real that I found myself feeling sad at the thought of them ever leaving each other. I have a thing for found families ok.
📘📘📘 3 Books!