I tried SO HARD to reach my goal of 50 books in 2017, especially because I wanted the shiny plaque on GoodReads… BUT ALAS… it was not meant to be…

[img src: unknown]
THE BLACK TIDES OF HEAVEN
[TENSORATE #1]
by JY Yang ♊⛰️✨
Oh JY. How could you do me dirty like this. And by do me dirty I mean cause me PAIN… Siblings who love each other deeply and queer pain!! WOW AMAZING PERFECT!! TIME TO DIE. Besides the pain, this world is so rich I'm not surprised to learn that JY is a meticulous planner for their worlds. Also as a fellow Singaporean I enjoyed the Singlish/Hokkien thrown in.. It's fun seeing something so recognisable in your real world in a fictional world too, ja feel? This book does not disappoint and it's worth reading if you are bored of heteronormative and western fantasy novels. AND FEAR NOT. Besides the 'twin' novella (see what I did there..) there's more books coming out from this series because JY Yang is mean and wants us all to cry. ANYWAY this book feels important in terms of diverse SFF and it's so easy to read both on page count and entertainment level that you have no reason not to give it a chance.
📘📘📘📘 4 Books!
THE PAUPER PRINCE AND THE EUCALYPTUS JINN
by Usman T. Malik 🗺️🧞🌳
Oh man I adored this short. I loved it so much. Djinn!! Always a sucker for djinn. The blurb is an apt description of what you'll expect and I think it works better if you don't know much going in. It's such a visual short and so well described that I found it so hard to stop once I started. This is the kind of short that is perfectly self contained and needs nothing more. If you love magical realism you really need to read this.
📘📘📘📘📘 5 Books!
COLD-FORGED FLAME
[REE VAREKAI #1]
by Marie Brennan 🗡️🌫️✨
I'm a fan of Marie Brennan and her Lady Trent book series about the dragon naturalist, so naturally (tee hee) I had to read this short as well. I didn't know until finishing that there's a sequel in the works, which although the story is very self contained, I am interested in seeing where the sequel will go. I don't always like not knowing what is going on when I start a story but in this case it worked because neither does the lead character. Anyway, I love how Brennan writes as it's always so much fun and this short is no exception.
📘📘📘 3 Books!
A DEAD DJINN IN CAIRO
by P. Djeli Clark 🤖👼🕵️‍♂️
Just wanna preface by saying that I have been and always will be a bit of a sucker for steampunk. Especially when they are non-white / non-western. I'M SO TIRED of the white guy in the waistcoat with a fobwatch and his equally white gal pal in a corset. This novella does that for me. It's got that great corny SFF vibe that I often love so much about steampunk without getting super white and western and boring. I'd definitely read more about Fatma and her dapper shenanigans.
📘📘📘📘 4 Books!
THE HAMMER OF THOR
[MAGNUS CHASE AND THE GODS OF ASGARD #2]
by Rick Riordan 🔨🐍🌈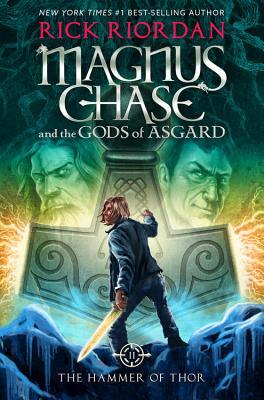 I think I liked this installment better than the first. Also I just LOVE Alex??? My beautiful gender fluid angsty teenager. Honestly Alex and Magnus better kiss in the third book or I'm gonna be REAL mad. Riordan really stepped it up in this book and I appreciate his version of Loki so much. He's so slimy and evil and terrible, but you can also understand his motives and sometimes even feel bad for him???? Hearthstones back story and subplot of visiting his home with Magnus made me want to cry and die. The discussion of his disability was so good without it feeling like it was shoehorned in to tick off a box. Same goes for Samirah and the inclusion of her religion and how she copes with it while being a Valkyrie. AHHH. I need the next book ASAP. Riordan is just always so much fun to read.
📘📘📘📘 4 Books!
THE CITY BORN GREAT
by N.K. Jemisin 🏙️👶😨
I… did not like this one as much as I thought I would… I mean, it is also like what, 20 pages? I would've liked it to be fleshed out a bit more but it still worked well as it was. I do love the 'Lovecraftian' concept of cities being living beings. You often feel like that if you spend enough time in a big city, and New York is CERTAINLY one of those that feels like a great breathing, groaning beast. I'd like to read another story in the same vein of this for other big cities like Paris or Berlin or even Shanghai…!!
📘📘📘 3 Books!
RIVER OF TEETH
[RIVER OF TEETH #1]
by Sarah Gailey 🤠⛴️🗡️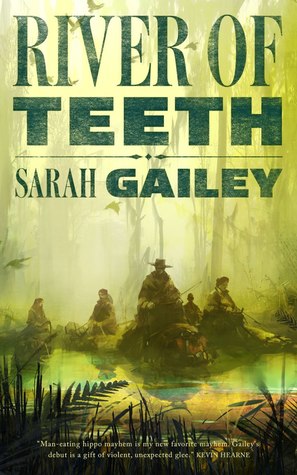 Oh my god I am SO GLAD I bought this on my Kindle as soon as I read the blurb on GoodReads… I DO LOVE A GOOD FANTASTICAL WESTERN. And this one is even based on something that nearly happened in real life. HIPPOS IN THE BAYOU. Amazing. Anyway, I love this book a lot and Archie is a life goal. Also I love that nobody really said anything offensive in regards to Hero being gender neutral. I spent like nearly the whole damn book waiting for some kind of dialogue about their gender performance and nobody said a damn word about it in a bad or good way. It just was. Hero just was Hero and that was it. SEE GUYS. YOU CAN DO THAT EVEN IN HISTORICAL FICTION BOOKS!!!!!!!!!!
📘📘📘📘📘 5 Books!
FROM THE EDITORIAL PAGE OF THE FALCHESTER WEEKLY REVIEW
[THE MEMOIRS OF LADY TRENT #3.5]
by Marie Brennan 📝📥💢
I nearly didn't plug this one in because it's not even a book really, but I thought I might as well. This is just a series of 'letters' between Lady Trent and fellow scientist in a journal. She's so smart and has done so much and yet men still refuse to believe her or try to discredit her. But she has the receipts and the sass to match so never fear dear reader. I love her.
📘📘📘 3 Books!
REBEL QUEEN
by Michelle Moran ⚔️🧕📖
I've heard about this real queen before, Queen Lakshmi, but knew very little about her. And after enjoying Moran's Mata Hari book, I thought I'd pick this one up too. I'm glad I did as even though this is fictional, it included a lot of well researched truth and facts that I am now glad I know about. But besides that I enjoyed reading about the life of Sita, even the romance parts!! SHOCKING I KNOW. But they were written so that it didn't feel like it was shoved in for the hell of it. It had purpose. Anyway, this is definitely worth a read if you enjoy historical fiction and especially that of the amazing historical women variety.
📘📘📘📘 4 Books!