IT IS 2018…. TIME HAS GONE BY 2 FAST 2 FURIOUS 4 ME……….

[img src: unknown]
CLEOPATRA'S MOON
by Vicky Alvear Shecter 📜🏛👫
Going into this, I knew very little, actually nothing, about the lives of Cleopatra's children. I didn't actually know if she had children with Mark Anthony!! So I figured this book would be a fun yet slightly inaccurate way for me to find out more. Luckily the author also included several pages of historical notes at the end that tell the actual facts of their lives, which I was grateful for.
Long story short, this is a sad but engaging read about Cleopatra Selene, the eldest daughter of Cleopatra and Julius Ceasar. I really liked how the author wrote her daughter as always in awe of her mother, and how she really wanted to be JUST like her. There's also some bits that make you think twice about what you may have heard or read in the past about Cleopatra. But again, she doesn't really present just one perspective of her which is good, cause you know this is a YA book and you don't want to force feed teens anything lol.
I was pleased with how the book ended and especially pleased to learn that it was semi accurate to life, but the reason I only gave it 3 stars was because at times the writing was really grating to me. Mostly the dialogue, like I know it's a YA book, but IDK, the "ancient egypt/rome" dialogue was a bit too high fantasy for me at times and put me out of it. Also the romance parts of the book were a bit Much at times too.
TLDR it's a fun read if you like historical fiction and were really into ancient egypt at any given time in your life.
📘📘📘 3 Books!
TASTE OF MARROW
[RIVER OF TEETH #2]
by Sarah Gailey 🤠👶🗡
AHHHH!!!! I GUESS I LOVE HIPPOS NOW.
Ok so I will say first off the bat that I do like the first book, [book:River of Teeth|31445891] more. Only because I felt the pacing was better and that I really love how everyone was introduces and how the story developed with everyone in it.
That is not to say I did not like the sequel though!! I really enjoyed this one because I was already so heavily invested in all the characters. Especially Hero and Archie. This book is basically how the group found each other again and finding out who the real culprit of the previous caper was.
I did find this one to be a bit rushed at times, and some plot points felt like they happened out of the blue or were too easily resolved, but also I know that this was not meant to be novel length and the issues I had with pacing were not that big of a deal. It all still worked really well all the same.
All in all you should read this sequel if you enjoyed the first, and don't read this one unless you've read the previous!!!!!!!! VERY IMPORTANT OK!!!!!!!!!!!!!!!!!!!!1111111
📘📘📘📘 4 Books!
CONSPIRACY OF RAVENS
[THE SHADOW #2]
by Lila Bowen 🚂🦅🤠
So happy I FINALLY got my hands on this book!!! I had been waiting for it to appear in my local library for ages. It was worth the wait, eeeeven though I think I liked the first book more…
Again, that is not to say I didn't like the second installment!! It's just I think because the first book was so different to anything I've read before, and so fun and engaging that I just had hoped that the second would leave me feeling the same way. But since I've 'been' to this world before, I obviously didn't feel the same way.
I think it's safe to say that most of this book is about Nettie becoming Rhett and fully becoming comfortable with who he is as a man and The Shadow, as well as becoming more in control with his powers. I will say that it's really nice whenever I get to read a character properly represented as bisxeual and with the struggles of a baby bisexual over trying to figure out which 'gender/sex' they prefer, until they realise that shouldn't be an issue. Because it's not.
Anyway the best part of this book is 100% the bits about Rhett and his development with himself and his friends. I also enjoyed the concept of using magical immigrant folk to build a railway, since that was a nice nod to real history, but I think because it was introduced like halfway through the book, the pacing of that story was a bit rushed. And the ending was so ??? "That's it???" At least that's how I felt.
TLDR I need to read the next book because I am protective over my baby Rhett and want to see him finally be happy and safe.
📘📘📘 3 Books!
THE GENTLEMAN'S GUIDE TO VICE AND VIRTUE
by Mackenzi Lee 👬💊🍷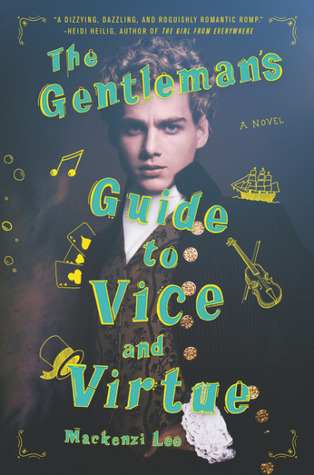 When I first heard of this book I wasn't that interested, the plot seemed a bit convoluted and very YA and just not what I thought I'd be into. But after a while I saw a bunch of people saying how it was such a fun read and the queer characters were really well written, so when I saw it at the library I thought I'd give it a shot. SURE GLAD I DID.
I mean my initial thoughts were correct, the plot is ridiculous and it is written very much like a YA novel – I mean that's what it is but you know what I mean. BUT! It was still very fun to read and it wasn't too grating for me as an older person that is very obviously not a teenager anymore. As for the characters, I really loved how Monty was written and especially his struggle or lack of struggle with his sexuality and his development throughout the book. I do love a good bisexual struggle topped off with angst and unrequited love.
Long story short, this is great if you really enjoy historical fiction novels and are in need of a fun adventure story that also has some "shmoopy" scenes that might warm your cold dead heart.
📘📘📘📘 4 Books!
CASATI: THE SELFISH MUSE
by & illustrated Vanna Vinci 💇‍♀️🔮🖼
I got this through NetGalley and I REALLY wanted to like it more than I did, but it just wasn't that great… The art is lovely and it's worth flicking through just for that, but the writing just wasn't as good.
I first heard about the Marchesa Casati through a podcast called Stuff You Missed in History Class and honestly? That podcast does a better job talking about her and her life than this graphic novel does. The pacing is a bit all over the place and even though I like how it sort of feels like a diary at times, I thought it could have done with a bit more editing.
📘📘 2 Books!