I've been trying to get myself to read more since I actually want to achieve my Goodreads challenge of 50 books (not including graphic novels, comics or re-reads!!) this year.. IT'S HARD. Getting out of a reading slump that is a year long is HARD. 😦
ON A SUNBEAM | by Tillie Walden 🌌🚀👭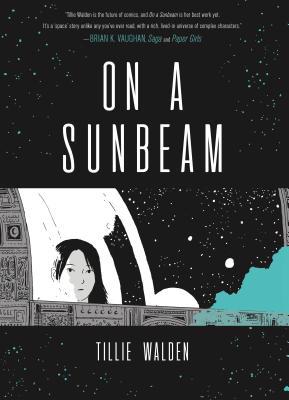 FIRST OFF: the art in this is KILLER. It's so lovely and evocative of SPACE and knowing and not knowing.. It's good. The plot itself is ALSO VERY GOOD. It's kinda addictive because you find out information about everyone in spurts and then things start linking up and it's like, aHHHHHH!!! THIS AND THAT??? OHHH!!! THAT!!!!!
I guess it's about family and finding family and acknowledging your past regardless of the bad??? ANYWAY YOU SHOULD READ IT. Also, there seems to be? no men? at all???!? Which is. kinda cool. And that all girl school in space looks very cool with the fish car sport thing. Count me in.
📘📘📘📘📘 5 Books | [img src]
---
BRAZEN: REBEL LADIES WHO ROCKED THE WORLD | by Pénélope Bagieu ♀️💪🌎
I fully did not expect a book of comic strips about historical women would make me so EMOTIONAL. 😩 Their histories are all well told and succinct without leaving out important details and the art is so cute and sometimes Bagieu changes the art to suit the story, for historical reasons or because of their art style (like Tove Janssons story). I even learned about some women I didn't know before, and details of women I DID know about but didn't know a lot of!!
📘📘📘📘📘 5 Books | [img src]
---
LANDSCAPE WITH AN INVISIBLE HAND | by M.T. Anderson 👽🛸🖼️
Ok so. This novella was not what I expected it to be, and that's both good and bad. So it's good because I expected it to be like Who Framed Roger Rabbit meets Mars Attacks meets Interdependence Day, which it wasn't. There wasn't that much humour in it, but when there was it was kinda bleak and dark, which is fine for me as well. It's also bad that it's not what I expected because, I didn't really want to read such a bleak dystopian future story no matter how short it was…
Anyway, regardless of what I wanted I did enjoy the book as it was quite different to dystopian books I've read before, especially ones concerning aliens contacting humans and even living with them. It did have a slightly happy ending though!! Albeit a slightly rushed one that felt kinda anti climactic to me. Despite all of that I did enjoy reading it and think it's worth picking up from the library! I kept picking it up and putting it down which probably was a bad idea. I think it flows better if you read it in one sitting or two even. Not… over…. several… months….. 👀
📘📘📘 3 Books | [img src]
---
BATS OF THE REPUBLIC: AN ILLUMINATED NOVEL | by Zachary Thomas Dodson 🦇🤠💉
EVEN THOUGH I more or less guessed the twist about half way through, I'm still giving this book 5/5 because it's so beautifully put together and I had to lie down after finishing it, and I was already lying down in bed. 😨
I'm not sure how to explain this book without spoiling anything but I guess it's best to just go into it without knowing anything and notice EVERYTHING in the book itself and the story.
📘📘📘📘📘 5 Books | [img src]