Decided to combine my roundup for February with March as I didn't read much in the second month and it seemed a bit silly to make a small post for it…!

[img src: unknown]
WINDS OF CHANGE
[THE MAGE WINDS #2]
by Mercedes Lackey 🐎🦅💖
This installment of The Mage Winds took me FAR longer to read than it should have lol… I'm not sure why since I haven't taken so long to read previous Valdemar books! I think maybe it's because this one went a bit slower than the previous novel. The first one was all about the journey and discovery that Elspeth took, while this one was a lot of her fitting into the K'Sheyna Vale and honing her magic powers.
There was a fair bit of romance in this one too, and uh, it even delved into sex, which uh was not THAT bad… But at times it was so darn corny I had to roll my eyes.
Anyway it sped up a bit plot wise around half way through and that's when I started to read a bit faster, and I think enjoy the plot more too! Still gonna finish this series though. I love the Valdemar universe too much to stop reading it completely. ♥
📘📘📘 3 Books!
[img src]
STAR TREK: THE VULCAN ACADEMY MURDERS
by Jean Lorrah 🖖😷🏜
I was in the mood for a Star Trek novel as they never really disappoint me. Who doesn't LOVE official published fanfiction??!!?
This one was very Spock heavy as it's set on Vulcan, BUT features Kirk (obviously) and Bones too. And if you love Spock and his family then you're gonna love this one. Especially Vulcans. If you love world building and Vulcans then this will be perfect.
Long story short, this book gave me many Spock and Sarek feelings and gave me new respect for what a boss ass bitch T'Pau is.
📘📘📘📘 4 Books!
STAR TREK: LEGACY
by Michael Jan Friedman 🖖🐙⛏
YES I READ 2 STAR TREK BOOKS IN ONE MONTH OK LEAVE ME ALONE.
This starts off with a routine survey that goes haywire – Spock gets poisoned by some weird tentacle monster, then Kirk and his landing party get trapped under the earth after an earthquake, and then to top it all off the Enterprise has to LEAVE the planet and looking for Kirk because there's been an attack on a mining colony.
Turns out the attacker is a guy that Spock met once while serving under Pike and struggles to defeat this man though poisoned. All while Kirk and his team struggle to stay alive and hope that they will eventually be rescued by the Enterprise.
So not as fun as the Vulcan Academy Murders that I read before, BUT still fun all the same. This one really felt like a typical TOS episode to me and I am glad for it. However there was a romantic sublpot with Kirk and a crew member that I felt wasn't really necessary at all. But whatever this was originally published in 1991 so I guess I can't complain too much because at least she was important to the story and wasn't just there for Kirk to lust over…
📘📘📘 3 Books!
ATAR GULL
by Fabien Nury & illustrated by Brüno ⛓🌍📜
I got a copy of this graphic novel through NetGalley as it looked interesting enough, and I always enjoy reading a good Bande Dessinée as the art never lets me down, even if the plot does. And safe to say that this was not the case. Both the plot AND art held up!
This is adapted from a 19th century novel about the life of a slave, and it does not skimp on the horrid and traumatic lives that black men and women had after being captured and sold into slavery. But as it is from a novel from the mid 1800s, it seems like there's not much research done so we have no idea really where Atar Gull was from, or how much of the tale is true. Apart from what we already know of the slave trade.
It's a relatively quick but depressing read, and the art seems to go quite well with the subject matter. All in all it was a good read of a book I have never heard of, but if you're looking for a book that accurately depicts the slave trade of the early 1800s, then this is probably not what you want.
📘📘📘 3 Books!
WE ARE OKAY
by Nina LaCour 🌊💌🗽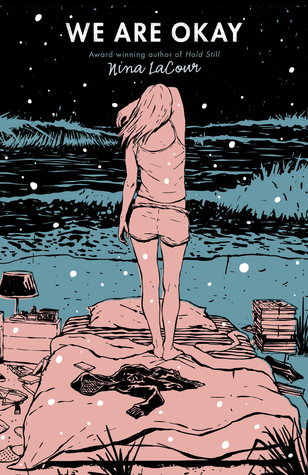 Nina LaCour already had my heart once I finished Everything Leads to You, so I knew that this was a book not to be missed. And I finally got my hands on it from the library!! I was also pleased to find it was rather short as I've been in a bit of a reading slump, so a short book was just what I needed. PITY THIS GAVE ME SO MANY DAMN EMOTIONS.
This book is as heartfelt as I expected it to be after reading only just one of her other novels, and probably is even more so in a smaller word count. How she does that I just don't know. It's a powerfully written story about family, grief and friendship that really captures how it feels to be so heart broken and lost. There's already been a lot said about this novelette/novella so I'm not sure what else I can add to the conversation, other than I really enjoyed it but at times found it hard to read as it was too relatable!!
Also non-linear/time switching narratives can sometimes be confusing, so I appreciate that there is enough to let you know where you are in each chapter so you don't get too confused.
TLDR if you were looking for something cute and shmoopy like Everything Leads to You, this is not it.. But it IS good. So read it anyway.
📘📘📘📘 4 Books!